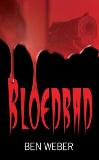 Bloedbad
Ben Weber

Dit boek schetst het leven van een tiener die schijnbaar zonder motief een aantal mensen vermoordt en dan zelfmoord pleegt. De schrijver wil geen excuusboek voorleggen, maar het is wel de bedoeling dat de lezer er wat meer over nadenkt. Bij iedere dader spelen sociale en psychologische motieven een rol. De vraag is of de jongen enkel een dader is, of misschien ook een slachtoffer.
Het is geschreven naar aanleiding van de massamoord in Winnenden in 2009. Het boek wordt afgesloten met een aantal krantenartikelen daar over en met een lijst van massamoorden.

De ik-figuur, Bart Nielsen, is een jongen van zeventien die naar zijn oude school gaat en wild om zich heen schiet. Hij doodt daarbij onschuldige jonge mensen, en vlucht weg. Onderweg vallen er nog meer slachtoffers, tot de politie hem insluit en hij zichzelf door het hoofd schiet.
Na deze vreselijke scene wordt de lezer mee teruggenomen in de tijd. Zo'n veertien jaar eerder begon Bart aan zijn eerste schooldag. Al snel was hij het slachtoffer van pesters, waar hij niet tegen op gewassen was. De situatie thuis was duidelijk niet ideaal: een dominante vader met losse handjes, en een dociele moeder die liever haar eigen dingen deed dan zich bezig te houden met haar kinderen.


'maar eigenlijk vind ik het wel prima zo. Ik vermaak me best goed in mijn eentje. Ik heb helemaal geen vriendjes nodig. In feite ben ik al vroegzelfstandig geworden.'

Het is niet bepaald een sympathieke jongen, deze Bart. Hij veroordeelt anderen snel, geeft hen geen kans en stelt zich nogal negatief op. Iedereen is tegen hem, vindt hij, hij doet niets goed. Meisjes zijn voor hem louter lustobject; niet vreemd dat zijn relaties geen stand houden. Maar dat ligt natuurlijk aan die meisjes. Wonder boven wonder komt hij door zijn gedrag bij een psychologe terecht en al is hij meer geïnteresseerd in haar lichamelijke uitstraling, ze bereikt hem daardoor ook psychisch. Maar het is niet genoeg...
Bereikt de schrijver zijn doel? Vindt de lezer dat er begrip opgebracht kan worden voor deze jongeman? Ten dele wel. Tot het psychologisch rapport aan de orde komt is het beeld dat we van Bart hebben ronduit slecht. Kan de maatschappij iets doen tegen dit soort individuen? Hoe kun je op tijd signaleren dat er iets grandioos fout gaat? Daarop komt geen antwoord. Verwachtte ik ook niet.
Zeuren over de spelfouten, zal ik deze keer niet doen, maar over de stijl wil ik wel wat kwijt. Het verhaal wordt op een nogal saaie manier verteld. Er wordt niets aan de verbeelding overgelaten, en er is weinig afwisseling in zinsopbouw. Met de storende herhalingen, zoals hier bijvoorbeeld het woordje 'dan', leest dat niet echt inspirerend. Ook de dialoog is niet echt spannend.


'Thuis wordt de sfeer tussen mij en mijn zus Yvonne er niet beter op. Ze zit me continu te sarren. We liggen elkaar niet echt goed. Misschien krijgt ze wel te weinig aandacht van mijn ouders. Ze verstopt bijvoorbeeld mijn schoolspullen op zolder. Ik moet dan het hele huis doorzoeken terwijl ik mijn tijd beter kan besteden aan mijn huiswerk. Het lachen vergaat haar op het moment dat ik dan met een boek tegen het hoofd aan sla. Krijsend van de pijn rent ze dan naar mijn moeder. Ik heb dan weer heel wat uit te leggen. Laatst komt ze bij me om geld te lenen.
'waar heb je het voor nodig?' vraag ik haar.
'Ik wil graag een nieuwe Barbie kopen,' legt ze uit,.
'Wat kost dat?' vraag ik.
'Dertig euro maar,' antwoordt Yvonne.
'Maar! Dat is veel geld, Yvonne,' vertel ik haar.
'Daarom wil ik het ook van je lenen,' zegt ze.

ISBN 978 90 8666 141 1 | Paperback |214 pagina's | Boekenplan | juni 2010
Marjo, juli 2010
Lees de reacties op het forum en/of reageer, klik HIER