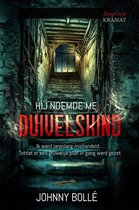 Hij noemde me duivelskind
Johnny Bollé


Hoewel het verhaal in delen uit elkaar valt is de vijfentwintigjarige homoseksuele Seth toch wel het hoofdpersonage. Hij heeft een akelige jeugd achter de rug, die hij deelde met zijn oudere broer Ramses en zus Isis.

Isis bevindt zich in een inrichting, het gaat niet goed met haar waarschuwt Ramses zijn broer. Maar Seth zoekt allerlei smoesjes om haar niet te hoeven gaan bezoeken, hij heeft genoeg aan zichzelf vindt hij. Hij is aan het verhuizen en heeft net een andere baan. Hij werkt als 'Head Booker' (mocht je niet weten wat dat is, het wordt gaandeweg duidelijk) op een modellenbureau, Rochelle's models. Rochelle kende hem al eerder, en dat ze hem die baan heeft gegeven zet kwaad bloed bij zijn collega's. En als een van hen, Tara, verdwijnt, moet Seth dan als verantwoordelijke worden aangewezen? Het is wel zo dat zijn voorganger op die plek Becky was, en Becky was een slachtoffer van een seriemoordenaar die in het Antwerpse actief is. Hij wordt de sleutelmoordenaar genoemd, omdat hij in de keel van zijn slachtoffers een sleutel achterlaat.

Erger is dat hij het zelf niet meer weet: hij heeft visioenen van de vrouwen die vastgebonden zitten in de kelder waar zijn moeder hem opsloot. En hij heeft geen idee wat hij die nacht dat Tara verdween gedaan heeft. Geheugenverlies.
Maar de politie pakt hem niet op, en zo gaat Seth met Rochelle en de modellen die mee zullen gaan doen bij de Missverkiezing, naar Ibiza. Een van de modellen is een meisje dat hij zelf gespot heeft: Hope. Zij is ook een verteller. Al wil ze natuurlijk Miss België worden, ze heeft ook nog andere plannetjes, waarvan we niet meteen de achterliggende redenen vernemen.

Als Seth hoort dat de veel oudere fotograaf Simon ook meegaat wordt hij onrustig. Heeft of had hij nu wel of niet een onenightstand met die man? Hij vindt hem wel heel leuk! Tot zijn verbazing gaat zijn broer Ramses ook mee, en nog wel als partner van Rochelle. Maar hij is toch getrouwd?
Op Ibiza gebeurt van alles wat niets met de missverkiezing te maken heeft. Seth wordt onder hypnose gebracht, om te achterhalen wat er die ene nacht gebeurde en in het hotel waar ze bivakkeren vallen slachtoffers.

Het verhaal verloopt volgens het geijkte patroon. Eerst is er de proloog, waarin een vrouw vastgebonden zit en de hamer op zich af ziet komen. Pas als het boek uit is vallen de puzzelstukjes die dit deel van het boek oproepen in elkaar, we moeten het in ons achterhoofd houden.
Daarna volgen verschillende verhaallijnen, met andere vertellende personages: er is Lucifer, de moordenaar, die samenwerkt met het duivelskind van de titel. Wie dat zijn dat weten we natuurlijk niet. De grootste kanshebber is een van de vertellers: Seth, maar ook Simon zou kunnen. Of misschien Hope?
Om het nog ingewikkelder te maken zijn er ook flashbacks, al verduidelijkt het verleden ook wel wat er in het heden gaande is.

Na een vrij ingewikkeld verhaal waarin je als lezer iets vermoedt of een verdenking hebt, maar waarin je steeds op een dwaalspoor gezet wordt door de schrijver volgt dan eindelijk de ontknoping.
Had je het goed? Of zat je er helemaal naast?
Je hebt intussen wel een aantal uren geboeid dit boek zitten lezen, want dat doet Bollé: hij houdt je in de greep! Daar helpen ook de korte hoofdstukken en cliffhangers aan mee. Bollé is een schrijver die op de kleine dingetjes let en die zijn beschrijvingen goed doseert.

Johnny Bollé schrijft korte verhalen en thrillers. Na Egyptisch Blauw en Bloedmaan is Hij noemde me Duivelskind het derde boek van deze Antwerpse schrijver. Hij combineert zijn baan als fitnessmanager met het schrijven van boeken.

ISBN 9789462421189 | paperback | 285 pagina's | Uitgeverij Kramat | april 2020

© Marjo, 25 juni 2020
Lees de reacties op het forum en/of reageer, klik HIER