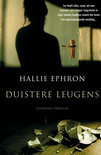 Duistere leugens
Hallie Ephron



Ivy en David Rose zijn een gelukkig stel, ze hebben bijna alles wat ze willen. Een goede relatie, een kind op komst en het huis waar ze nu drie jaar wonen lijkt eindelijk af te komen. Dat huis bevindt zich in New England, Amerika dus en in Amerika koop je een huis vaak met allerlei rommel er nog in, ik heb dat altijd vreemd gevonden. Maar als het anders was dan zou Ivy nu niet alle rommel van de zolder op straat kunnen zetten om een verkoop te houden, een yard-sale.

De verkoop verloopt heel goed, tot de komst van een oud klasgenoot een schaduw werpt. Melinda White, zowel Ivy als David kennen haar nog van college. Ze was het pispaaltje van de klas, omdat ze er niet uitzag als de anderen. Ze werd gepest en genegeerd, een buitenbeentje. Maar nu is ze veranderd als de zwaan, die ze uit de rommel heeft gevist. Ivy vindt zelfs dat Melinda op haarzelf lijkt, eng is dat!
David ziet dat Ivy zich ongemakkelijk voelt bij haar en besluit Melinda mee naar binnen te nemen om haar het huis te laten zien zoals het nu is. Haar moeder heeft er ooit gewerkt vertelt ze, dus ze is nieuwsgierig. Wat er zich dan afspeelt blijft lang onduidelijk. Wat heeft zich afgespeeld op de zolder? Heeft Melinda het huis verlaten? Of toch niet? Maar waar is ze dan? Waarom zou je precies in de gaten houden wat iedereen doet of waar iedereen is? Je hebt het druk met het verkopen van de spullen en het sjouwen van dozen, er is geen reden voor extra oplettendheid. Maar daar vergissen Ivy en David zich in. Wat een normale dag had moeten worden, is het begin van een nachtmerrie.

Al snel staat de politie voor de deur: Melinda White blijkt vermist. David wordt meegenomen naar het politiebureau en bewijzen stapelen zich op. Ivy, hoogzwanger en bang voor haar baby, blijft alleen achter, met groeiende twijfels. Want als die bewijzen kloppen, wie is dan de David die zij kent? Wat hebben Melinda en David in het verleden met elkaar gehad?

De spannendste boeken zijn die waar de politie een heel andere kijk op de zaak heeft dan het slachtoffer en waar dan dat slachtoffer zelf op onderzoek uit gaat. Dat is hier het geval. Ivy kan het niet laten, ze moet weten wat er aan de hand is, of ze David kan vertrouwen. Gelukkig heeft ze een goede vriendin die haar helpt en in de gaten houdt... tenslotte kan de baby zich ieder moment aankondigen.Dit debuut is een boek dat je niet meer weg wil leggen. Misschien is het idee niet zo origineel, maar het is goed uitgewerkt, en erg spannend. Stukje bij beetje wordt eerst het web als een ingewikkelde constructie geweven om daarna weer tergend langzaam ontrafeld te worden.
Een belofte dus.

ISBN 978 90 325 1202 6 Paperback 255 pagina's | de Kern | september 2009
Originele titel 'Never tell a lie' Vertaald door Jan Smit
© Marjo, september 2009
Lees de reacties op het forum en/of reageer, klik HIER