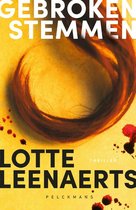 Gebroken stemmen
Lotte Leenaerts

Margot en Anthony hebben een ongezonde relatie. Margot zit danig onder de knoet, hij houdt haar zelfs op haar werk in het restaurant met camera's in de gaten, ze kan geen stap vrijuit zetten.
Maar ze weet niet wat ze er aan kan doen.

In dat restaurant komt Jade van Hoof vaak om te lunchen. Haar oog valt op verdachte blauwe plekken bij Margot, maar Jade aarzelt of ze het meisje aan zal spreken. Het is wel haar doelgroep: in de praktijk waar ze als psycholoog werkt, heeft ze vaak te maken met beschadigde vrouwen.
Nog niet zo lang geleden werkte ze als gerechtspsycholoog, en als de politie haar nu in die hoedanigheid om raad vraagt, gaat ze hen helpen bij het onderzoek dat open ligt: er is een jonge vrouw gevonden, onmiskenbaar vermoord.
Voorlopig tast de politie in het duister: wie is deze vrouw? Wat is er met haar gebeurd? Was ze een willekeurig slachtoffer of had de moordenaar haar specifiek in het vizier?

Ergens zullen deze verhaallijnen elkaar wel raken, maar het duurt even voor duidelijk wordt wat de link is. Eerst moeten er nog meer slachtoffers vallen…

Natuurlijk zijn er ook nog journalisten die op zoek zijn naar meer nieuws dan ze krijgen, en er is een persoonlijk verhaal: Jade had ooit een relatie met David die ze nu in zijn functie van rechercheur weer tegenkomt. Een ongemakkelijke situatie. Zijn ze professioneel genoeg om de zaak van wat intussen een seriemoordenaar lijkt voorrang te geven boven hun persoonlijke probleempjes?

Gebroken stemmen is het thrillerdebuut van de Vlaamse Lotte Leenaerts, en zij mag dit boek gerust opvolgen met nog meer van dit soort spannende verhalen. Het concept is vaker toegepast: meerdere verhaallijnen waarvan eentje van de dader is, zodat je als lezer meer weet dan de politie.
Maar niettemin slaagt Leenaerts er in de spanning er in te houden! Prima!
De couleur locale voegt nog wat extra's toe, als je tenminste een beetje bekend bent in de omgeving van Antwerpen: het speelt zich af in Zoersel, Brecht, Rijkevorsel en Mortsel.

Lotte Leenaerts (Rijkevorsel) studeerde Taal- en Letterkunde.

ISBN 9789464019551 | Paperback | 325 pagina's | Uitgeverij Pelckmans| januari 2023
© Marjo, 11 april 2023
Lees de reacties op het forum en/of reageer, klik HIER