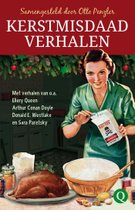 Kerstmisdaadverhalen
(Samengesteld door) Otto Penzler

De Mysterious Bookshop in New York bestaat al zesendertig jaar en is gespecialiseerd in misdaadverhalen. Je kunt in deze boekwinkel terecht voor de allernieuwste boeken maar ook voor gesigneerde eerste edities of bijzondere verzamelexemplaren. Winkeleigenaar, schrijver en uitgever Otto Penzler is uitgegroeid tot een expert op het gebied van misdaadverhalen. De verhalenbundel Kerstmisdaadverhalen bevat dan ook dertien fantastische misdaadverhalen.

Alle verhalen hebben een link met de feestdagen. Zo begint Otto Penzler met een klassieker uit 1892. Het verhaal Het avontuur met de blauwe robijn is geschreven door misschien wel de bekendste misdaadschrijver ter wereld: Arthur Conan Doyle. Sherlock Holmes, de bekende detective uit het Londense Baker Street, buigt zich over het mysterie van een prachtige edelsteen die in een kerstkalkoen is aangetroffen. Dr. Watson staat weer eens versteld van de intelligentie van zijn goede vriend.

De Sherlock Holmesklassieker is echter niet het oudste verhaal in het boek. Het verhaal Markheim van Robert Louis Stevenson stamt uit 1885. Het gaat over een kersverse moordenaar die op een bijzondere wijze met zijn zojuist gepleegde misdaad wordt geconfronteerd. Toch is ook Markheim niet het oudste verhaal dat in dit boek is opgenomen. Het grappige verhaal De dieven die moesten niezen is dat wel. Het is geschreven door Thomas Hardy en verscheen voor het eerst in 1877, in het decembernummer van Father Christmas. In dit verhaal weet een slachtoffer van een bende struikrovers op gewiekste wijze zijn gestolen paard terug te krijgen.

Een goed misdaadverhaal is tijdloos. De verhalen in deze bundel beslaan dan ook een tijdsperiode van bijna honderdtwintig jaar. Het meeste recente verhaal is van Donald E. Westlake. In 1996 verscheen het verhaal De dief en de dinges voor het eerst in de Playboy. In dit verhaal prijst een inbreker zichzelf om zijn eigen vindingrijkheid. Niemand let immers tijdens de decembermaand op een man in kerstmankostuum die een grote zak met zich meesleept. Een irritante dronkenlap merkt zijn aanwezigheid toch op. Hij vraagt de inbreker om hulp. Hij heeft een fantastisch apparaat uitgevonden maar hij weet niet meer waar zijn uitvinding voor gebruikt kan worden. Kan de "kerstman" hem helpen?

Wie graag Britse detectives leest, zal genieten van de verhalen van Colin Dexter, Peter Robinson en G.K. Chesterton. Hun personages – respectievelijk hoofdinspecteur Morse, inspecteur Banks en Father Brown – zijn klaar voor de feestdagen. Of toch niet helemaal? Morse laat zich van een verrassende kant zien, Banks probeert het leven van een verbitterde huisvrouw te redden en Father Brown buigt zich over een brutale diefstal.

De auteurs van de andere verhalen in dit boek zijn Ellery Queen, Edgar Wallace, Mary Higgins Clark, Ed McBain, Sarah Paretsky en Peter Lovesey. Ook hun verhalen zijn ronduit intrigerend. Er worden moorden opgelost en verdonkermaand, een prijswinnend lot valt in verkeerde handen, een zestienjarige Maria bevalt in een politiebureau en een echtgenoot met losse handjes trekt een noodlottige conclusie.

Kerstmisdaadverhalen is een verrukkelijke verhalenbundel. Als je een kerstcadeau voor een liefhebber van misdaadverhalen zoekt, steel je met deze bundel de show. Het is een boek dat je na het lezen in de boekenkast zet om het elk jaar rond kerstmis weer tevoorschijn te halen. Dit soort verhalen vervelen nooit. Otto Penzler is er met vlag en wimpel in geslaagd een fantastische verzameling verhalen uit te zoeken.

ISBN 9789021404516 | paperback | 249 pagina's | Uitgeverij Q | oktober 2016
Vertaald door Miebeth van Horn
© Annemarie, 21 november 2016
Lees de reacties op het forum en/of reageer, klik HIER