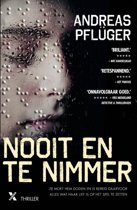 Nooit en te nimmer
Andreas Pflüger

Werd er in het eerste boek over Jenny Aaron al niet op een mensenleven meer of minder gekeken, in dit boek vallen in de proloog, die zich 10 jaar eerder afspeelt, al de nodige doden. Het tellen van de doden in dit boek is vrijwel onbegonnen werk, te meer daar het niet altijd duidelijk is hoeveel mensen er bij een actie om het leven komen.

Jenny Aaron krijgt van haar aartsvijand, die we in het eerste boek al zijn tegengekomen, een zeer flinke erfenis. Om deze in ontvangst te nemen, moet ze naar Marrakesh reizen. Hier hoopt ze definitief af te kunnen rekenen met haar verleden. Haar oud-collega Pavlik reist met haar mee, als bescherming. Dit kan echter alleen als Jenny Aaron zich weer aansluit bij het team, waar ze ooit deel van uit heeft gemaakt, tot ze door een noodlottige schietpartij blind is geworden. Aan het einde van dat boek kon ze weer licht en donker onderscheiden en in dit boek wordt haar de mogelijkheid geboden om misschien haar zicht weer terug te krijgen.

In Marrakesh begint het avontuur echt en er komen allerlei dingen uit het verleden aan het licht. Aan actie is geen gebrek en ook hier kijkt men niet op een mensenleven meer of minder. Er zitten de nodige droomstukken in, die het verhaal soms wat lastig te volgen maken. In ieder geval moet je het hoofd er een beetje bij houden.

Net als in het eerste boek zitten er weer de nodige lijstjes van 10 dingen in, hoewel op een lijstje van 10 dingen maar 1 ding staat. Voorts worden er nog gebeurtenissen van 8 jaar geleden beschreven, die verband houden met de mensen achter de allerlei zaken in dit boek.
Op een bepaald moment neuriet Jenny Aaron "La-lee-loe" voor een doodzieke vrouw, die ze samen met haar zoontje uit Marokko gehaald heeft en ik vraag me af of de auteur hetzelfde liedje in z'n hoofd heeft gehad bij het schrijven hiervan, als ik heb bij het lezen. In tegenstelling tot 'Strangers in the night', waarvan tekstfragmenten in het boek opduiken, wordt dit niet achterin het boek vermeld.

De auteur heeft zich duidelijk verdiept in de vaardigheden van blinden en hiervan gebruik gemaakt om Jenny Aaron geloofwaardig te maken. Het is een mens van vlees en bloed, hoewel ze soms wel een beetje overkomt als een soort getrainde vechtmachine. Dit past misschien goed in de actiethriller die dit boek is, maar het maakt dat niet alles even geloofwaardig overkomt.
Toch kijk ik na het lezen van dit razend spannende tweede deel, dat weer een echte achtbaanrit is, uit naar het derde en laatste deel van de serie over Jenny Aaron.

Mag ik tot slot nog een opmerking maken over de titel? De uitdrukking is natuurlijk 'Nooit ofte nimmer' en hoewel 'Nooit en te nimmer' typografisch misschien beter staat, komt het op mij toch een beetje onzorgvuldig over. Hadden titels van 1 woord, zoals bij de Duitse uitgaven dan niet beter gepast?

ISBN 978 94 0160 929 6 | Paperback | 415 pagina's | Xander Uitgevers | september 2018
vertaald door Renée Vink
© Renate, 23 september 2018
Lees de reacties op het forum en/of reageer, klik HIER