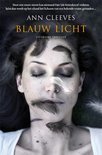 Blauw licht
Ann Cleeves


Het eilandje Fair Isle wordt vooral bezocht door vogelaars. Deze verblijven op de vogelobservatiepost. De vogelaars hopen tijdens hun bezoek een aantal bijzondere vogels te bewonderen of misschien zelfs een nieuwe soort op het eiland waar te nemen. De beeldschone Angela zwaait, samen met haar man Maurice, de scepter op de observatiepost. Kok en huishoudster Jane zorgt er vol toewijding voor dat het de gasten aan niks ontbreekt.

Wanneer dit verhaal begint is het eiland onbereikbaar omdat er een fikse herfststorm woedt. Niemand kan het eiland op of af. Ook inspecteur Jimmy Perez niet. Hij is op het eiland voor een bezoek aan zijn ouders. Samen met zijn verloofde Fran. Maar zijn vakantie is van korte duur. Het ontzielde lichaam van Angela wordt aangetroffen op de observatiepost. Er steekt een groot mes uit haar rug en door haar haren heen zijn veren gevlochten. Iemand heeft haar gedurende de stormachtige nacht om het leven gebracht.

Al snel is duidelijk dat de observatiepost die nacht was afgesloten. De moord kan alleen gepleegd zijn door mensen die binnen verbleven. De verdachten bestaan uit Angela's man en stiefdochter, het personeel en een handjevol gasten. Het motief is onduidelijk. Wel blijkt Angela over een nogal arrogante persoonlijkheid te hebben beschikt. Ook was ze dol op mannen en nam ze het met de huwelijkse trouw niet zo nauw. Heeft ze iemand zo erg tegen zich in het harnas gejaagd dat ze dat met de dood heeft moeten bekopen?

Aan Jimmy Perez de taak om de dader te vinden op het kleine eiland waar iedereen elkaar kent en roddels en speculaties zich als een lopend vuurtje verspreiden. Terwijl het onderzoek nog maar net van start is gegaan wordt er een tweede lichaam gevonden en moet er haast gemaakt worden. Voor er nog meer slachtoffers vallen.

Dit verhaal doet aan als een Agatha Christie-achtige vertelling. Een moord in een afgesloten ruimte en een handjevol verdachten versus een ijverige politie-inspecteur. Tel daarbij op een aangename en gemoedelijke schrijfstijl en voilà: Een prettige detective/thriller is geboren. Een fijn boek om te lezen op een van de donkere avonden die op komst zijn. Met een warm drankje binnen handbereik.

Ann Cleeves is een veelzijdige dame. Na haar studie aan de universiteit heeft ze allerlei banen gehad voor ze zich op het schrijverschap stortte. In dit boek heeft ze misschien iets van haar eigen ervaringen verwerkt want ze heeft ooit als kok bij een vogelobservatiepost gewerkt. Net zoals Jane in het boek. Kennelijk heeft Ann Cleeves in het schrijven rust gevonden. Ze is niet meer van baan veranderd en heeft vandaag de dag tweeëntwintig boeken op haar naam staan.
ISBN 9789022998731 | paperback | 256 pagina's | A.W. Bruna Uitgevers | augustus 2011
Vertaald uit het Engels door Erik de Vries
© Annemarie, 19 oktober 2011
Lees de reacties op het forum en/of reageer, klik HIER
---