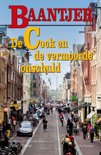 De Cock en de vermoorde onschuld
Baantjer

Het is een warme zomer. Het bruisende Amsterdam zucht onder de hitte en ventilatoren maken overuren. Het is zelfs zó warm dat rechercheur Jurriaan "Jurre" De Cock zijn karakteristieke hoed heeft thuisgelaten. Politiepartner Dick Vledder heeft geluk. Met zijn huidige vlam viert hij vakantie op Texel. Even geniet De Cock van het mooie weer maar al snel wordt de zonnige dag overschaduwd door een gruwelijke gebeurtenis.
Op de Haarlemmerstraat heeft een schietpartij plaatsgevonden. Een onbekende schutter met een motorhelm op hield zich verscholen tot "zakenman" Jantje Haverkort opdook om bij Coffeeshop Bob zijn dagelijkse kopje koffie te nuttigen. Jantje wist weg te duiken maar dat gold niet voor de elfjarige Rianne. Zij was met haar moeder op weg naar de bakker en verheugde zich op de krentenbol die ze daar altijd van het personeel kreeg. Het onschuldige meisje werd getroffen door de kogel die voor Jantje Haverkort was bedoeld en kwam te overlijden.

Het nieuws grijpt De Cock hevig aan en Vledder laat zijn vriendin meteen op Texel achter om zijn collega met het moordonderzoek te helpen. Er zijn de afgelopen jaren veel afrekeningen in het criminele circuit geweest. Doorgewinterde criminelen openen regelmatig het vuur op elkaar. Maar waarom Jantje Haverkort? Jantje is weliswaar een handelaar in allerhande zaken die het daglicht niet kunnen verdragen maar hij hoort beslist niet bij de grote jongens. Afrekeningen vinden vrijwel altijd binnen de drugswereld plaats en daar hoort Jantje Haverkort niet thuis.

Een kind is gestorven omdat kwalijke lieden zich zo nodig met duistere zaken bezig moeten houden. Haar moeder is ontroostbaar. Ze zal de rest van haar leven onder dit ondraaglijke verlies gebukt gaan. De Cock en Vledder zijn vastbesloten de waarheid boven tafel te krijgen. Jantje kan dan wel beweren dat hij geen idee heeft waarom hij het doelwit was, maar daar trappen de doorgewinterde politiemannen niet in.

Wie wilde Jantje Haverkort dood hebben en waarom? Schoot de schutter op eigen initiatief of is er sprake van een opdrachtgever? Helaas is het niet eenvoudig om ervaren criminelen aan het praten te krijgen. Alle betrokkenen glimlachen vriendelijk en wisselen beleefdheden uit maar houden verder hun mond. Wanneer de negenjarige Havanna verdwijnt lopen de emoties hoog op. Is het meisje ontvoerd? Zal er nóg een onschuldig kind slachtoffer worden?

De Cock en de vermoorde onschuld is alweer het 77-ste deel in de Baantjer reeks. Opnieuw bewijst Peter Römer dat hij succesvol in de voetsporen van de in 2010 overleden Appie Baantje is getreden. De Cock en Vledder zijn uitgegroeid tot misschien wel de bekendste en populairste politiemensen van Nederland.

De dood van een kind laat niemand onberoerd. Zonder onnodige sentimentaliteiten wordt duidelijk gemaakt dat afrekeningen in het criminele circuit ook onschuldige mensen kunnen treffen. De straten van Amsterdam zijn in een strijdtoneel veranderd. Nietsvermoedende burgers worden de dupe van ruzies tussen gewetenloze criminelen. Politiemensen staan vaak machteloos omdat iedereen zijn mond houdt. Uit angst of uit eigenbelang. Zullen de Cock en Vledder erin slagen de schuldige voor deze afschuwelijke daad te laten boeten?

Wie zijn of haar eigen speurderskwaliteiten eens wil testen kan in een groot aantal Nederlandse theaters terecht voor Baantjer 2 LIVE! waarin de theaterbezoekers een feestelijke jubileumreceptie bijwonen. Wanneer er een dode valt te betreuren kunnen De Cock, Vledder en commissaris Buitendam (gespeeld door Peter Römer) de hulp van de aanwezigen goed gebruiken!
ISBN 9789026137488 | paperback | 141 pagina's| De Fontein | september 2015
© Annemarie, 21 november 2015
Lees de reacties op het forum en/of reageer, klik HIER