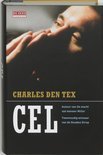 Cel
Charles den Tex

Flaptekst:
Michael Bellicher, de hoofdpersoon uit De macht van meneer Miller, is getuige van een auto-ongeluk met dodelijke afloop. Hij is zelfs de enige getuige. De politie ondervraagt hem over wat hij gezien heeft. Een routinekwestie. Maar tot zijn stomme verbazing wordt hij na afloop aangehouden op verdenking dat hij enkele maanden eerder een dodelijk ongeluk zou hebben veroorzaakt en te zijn doorgereden.
Michael weet van niets. Hij is de afgelopen tijd in het buitenland geweest voor zaken, wat hem in de ogen van de politie extra verdacht maakt. Er is maar één mogelijkheid: iemand anders heeft zich als Michael Bellicher voorgedaan, heeft in een auto gereden met zíjn kentekenplaten. Kortom, Iemand heeft Michaels identiteit geroofd. Want het houdt niet op bij het auto-ongeluk waarbij de auto op Michaels naam blijkt te staan. Michael wordt ook verdacht van het plegen van een ramkraak op een juwelier en er is op zijn naam een gigantische hypotheek op een waardeloos tuinbouwbedrijf. Het is nu zaak uit handen van de politie te blijven en zijn identiteit terug te krijgen.
Daarmee begint een spannende zoektocht waarvan de afloop niet bij voorbaat vast staat.

Mijn mening:
Prettige verrassing. Om de een of andere reden heb ik het niet zo op Nederlandse thrillerschrijvers, maar deze smaakt naar meer. Het is vooral een psychologische thriller, een die je angst aanjaagt. Is het echt zo gevaarlijk op internet? Het verhaal is herkenbaar: het speelt in een bekende Nederlandse streek, er komen bekende namen voor. Soms zijn hoofdstukken maar één alinea of één zin lang.

Hoofdstuk 58 bijvoorbeeld:
Cel
Eenheid van energieopslag. Aanleg van voorraad. Oplaadbaar en steeds opnieuw te gebruiken. Draagbaar. Onafhankelijk van netwerken. Individueel of in sets. Stroom in vaste vorm. Tegenstrijdigheid als bron.

Behalve dat er op meesterlijke wijze spanning opgebouwd wordt, zit er ook humor in het verhaal. De hoofdpersoon is duidelijk een intelligente man. De Kafkaiaanse gebeurtenissen die hem overkomen, tekent hij op in een blog, en gezien de gebeurtenissen zitten daar gaten in, die dan later weer opgevuld worden. Met de beeldend beschreven achtervolgingen en het duidelijke actuele gegeven is dit een zeer geslaagd boek. Het enige dat ik toch moet opmerken is dat een deel van de ontknoping mij ontgaat. Ik zou niet na kunnen vertellen wat er nu precies allemaal achter zit, te ingewikkeld.

ISBN 9789044511086 Hardcover 378 pagina's | De Geus Spanning | april 2008
© Marjo, juli 2010
Lees de reacties op het forum en/of reageer, klik HIER
---