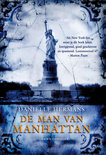 De man van Manhattan
Danielle Hermans
Voor de geoefende thrillerlezer is het geen probleem: al die verschillende hoofdstukken - niet al te lang gelukkig - die je door moet voor je, bijna op een derde van het boek, zo'n beetje weet waar het allemaal precies om draait. Tegelijk is het Hermans' kracht dat je dat echt wel doet: doorlezen. Haar cliffhangers zijn sterk genoeg.

We beginnen met een aanslag in Amsterdam. De historicus Donald Christie is daar het slachtoffer van.
Dan is er de journaliste Kes van Buren die de niet welkome opdracht krijgt een artikel te gaan schrijven over de Amerikaan. Hij moet haar ook al tegen zijn zin toelaten omdat zijn fondsen uitgeput raken, in deze tijd van crisis houdt de ene na de andere geldschieter op met doneren. Misschien kan haar artikel over zijn boek dat bijna uitkomt daar iets aan veranderen.
Zoals deze twee personen tegen hun zin in moeten samenwerken, zo zijn er meer personen in dit boek die hun werk tegen hun zin doen. Het is een en al oneerlijkheid en bedrog. Een geheim blijft niet lang een geheim, en veel mensen zijn niet wat ze uit willen stralen.

De premier van Nederland jaagt door zijn gedrag mensen tegen zich in het harnas; in Amerika is er een projectontwikkelaar die vijanden maakt, en meerdere personages worden geconfronteerd met hun geweten. Iedere speler in dit verhaal heeft assistenten, of relaties. Het is geen thriller met een of meer moorden, waarbij persoonlijke drijfveren de hoofdrol spelen. Hier gaat het om een verhaal dat de geschiedenis van de wereld kan veranderen. Misschien kun je dit wel een politieke thriller noemen, als zijn er (gelukkig) zeker geen politieke ideeën die gespuid worden.
Alles draait om eigendomsdocumenten die al of niet gevonden zijn in de archieven waar Christie al dertig jaar onderzoek in heeft verricht. Misschien zetten zij de geschiedenis van Manhattan wel op zijn kop.
Die papieren kunnen bepaalde mensen veel macht geven, en niet de minste daaronder zijn de Amerikaanse president en de Nederlandse premier. Er worden geen namen genoemd, maar het ontpopt zich tot een what-if-concept, dat de lezer toch nog even waarschuwt.

Danielle Hermans schetst oude geschiedenis: de kolonisatie van New York, met het verhaal over Peter Stuyvesant, maar verwerkt ook de recente geschiedenis, 9/11, en een hopelijk altijd fictief blijvende toekomst. Het geheel is misschien geen superspannende thriller, maar het is zeker een lezenswaardig 'document'.

ISBN 9789022996515 |paperback |304 pagina's | A.W. Bruna Uitgevers | januari 2011
© Marjo, 27 februari 2011
Lees de reacties op het forum en of reageer, klik HIER