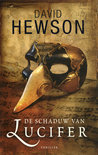 De schaduw van Lucifer
David Hewson.
David Hewson is bij thrillerliefhebbers met name bekend vanwege zijn in Venetië spelende serie thrillers met politieman Nic Costa in de hoofdrol. Binnenkort gaat hij beginnen met het naar boek vertalen van de bekende DVD-serie The Killing. En zijn veelzijdigheid bekroont hij met het boek De schaduw van Lucifer, wat weer van een heel andere orde is. Dit boek is trouwens veel eerder geschreven dan de Nic Costa-thrillers, maar dat terzijde.

David Hewson heeft mij schokkend verrast met het boek De schaduw van Lucifer. Er zitten zoveel lagen in dit boek; het gaat over muziek, het gaat over kunst, het gaat over liefde en het gaat over Lorenzo Scacchi in 1733 en de Engelsman Daniel Forster in het nu. Hoewel tijdtechnisch door eeuwen van elkaar gescheiden, lopen de levens deze twee mannen parallel aan elkaar.
Lorenzo komt na de dood van zijn ouders in huis bij zijn oom Leo, die een kleine drukkerij heeft in Venetië. Daniel is pas afgestudeerd en komt in contact met de laatst levende Scacchi, die hem een baantje aanbiedt om zijn bibliotheek te catalogiseren. In Venetië aangekomen blijkt Scacchi dat hij Daniel onder valse voorwendselen heeft uitgenodigd: hij moet iets kostbaars uit de overblijfselen van de drukkerij vinden wat verkocht kan worden, zodat schuldeisers afbetaald kunnen worden. Wat hij vindt is een anoniem stuk muziek dat van betoverende schoonheid is.
Lorenzo wordt verliefd op de Joodse Rebecca die een prachtig stuk muziek voor viool heeft gecomponeerd wat onder zijn naam uitgevoerd gaat worden. Muziek gecomponeerd door een vrouw en dan nog wel een Joodse, kon in die tijd immers absoluut niet!
Vanaf het moment dat zowel Lorenzo als Daniël zich schuldig maken aan bedrog rondom het muziekstuk, hangt de Schaduw van Lucifer dreigend boven hun hoofd. En beiden hebben te laat in de gaten van welke kant het werkelijke gevaar komt. Daar komen ze pas achter als het te laat is en hun dierbaren er te veel bij betrokken worden, of zelfs vermoord...

De Schaduw van Lucifer is een geweldig spannend verhaal en biedt de lezer daarnaast een boeiende inkijk in de geschiedenis van Venetië en van muziek (met een ludieke bijrol van Vivaldi). Het is duidelijk dat Hewson gedegen onderzoek heeft gedaan. Hoewel de levens van de twee jongemannen parallel aan elkaar beschreven worden, heeft de auteur door de verschillende stijlvormen en mooi afgeronde en in elkaar overlopende episoden, gezorgd voor een interessante schrijfstijl, waardoor het fenomeen 'boeien en binden' volledig van toepassing kan worden verklaard. Het enige dat de lezer wil is doorlezen.
Met dit boek heeft David Hewson zich bovenaan in mijn rijtje van favoriete auteurs weten te nestelen!

ISBN 9789026128622| Paperback | 480 pagina's | VBK Media | september 2011
Vertaald uit het Engels door Janine van der Kooij
© Joanazinha, 28 november 2011
Lees de reacties op het forum en/of reageer, klik HIER
---