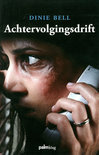 Achtervolgingsdrift
Dinie Bell

Dinie Bell (1956) heeft altijd graag geschreven en deed al jong mee aan verhalenwedstrijden. Nadat een verhaal was opgenomen in een bundel is ze blijven schrijven zonder verder te publiceren. Tot ze in 2007 een half afgemaakt manuscript weer tegenkwam en ze zich serieus aan het schrijven van haar eerste roman is gaan wijden. Deze is in 2011 verschenen. Achtervolgingsdrift is haar tweede boek (en eerste thriller) en momenteel is ze bezig met haar volgende thriller en zijn de ideeën voor de volgende boeken aan het opborrelen.

In Achtervolgingsdrift spelen een aantal verhalen en tijden door elkaar heen. Eind jaren vijftig van de vorige eeuw raakt de dan 14-jarige, promiscue Jeanne zwanger van een getrouwde man. In de jaren tachtig trouwt José, de dochter van Jeanne, met een politieman. Na een ongelukkig huwelijk en een pijnlijke scheiding zijn haar zorgen nog niet voorbij. Ze wordt gestalkt, maar door wie en waarom? Heeft het niet zo frisse verleden van haar moeder hiermee te maken of maakt haar ex-man haar het leven zuur?

Achtervolgingsdrift wordt op de achterkant van het boek gepresenteerd als een psychologische thriller, maar het kan geen moment voldoen aan de verwachtingen die daarmee worden geschapen. Het verhaal heeft op zich potentie maar de uitwerking van de plot is zeer mager en het wordt nergens echt boeiend of spannend. Inhoudelijk is Achtervolgingsdrift beter te typeren als een damesromannetje met een spannend sausje erover. Daarbij bedient de auteur zich van een simpel en ouderwets aandoend taalgebruik, wat het leesgenot niet verhoogd. Benamingen als 'een prille femme fatale' en de beschrijving van de getrouwde minnaar van Jeanne als 'knaap' en 'knul' ben ik in lange tijd niet meer tegengekomen. Het verhaal slaat mede daardoor helemaal dood, is volslagen nietszeggend en waar er al sprake is van een mogelijke spanningsboog, wordt deze nergens verder uitgebouwd.

Daarnaast lijkt de auteur in de valkuil getrapt te zijn van het adagium 'sex sells'. De expliciete en veelvuldige seksscènes doen indien mogelijk nog verder afbreuk aan het verhaal.

Wat opvalt en waardoor het boek in de boekhandel zeker opgepakt zal worden, is de mooie en intrigerende cover. Maar dat is helaas ook het enige wat mooi en intrigerend is aan Achtervolgingsdrift.

ISBN 9789081483896 | Paperback | 258 pagina's | Uitgeverij Palmslag | februari 2013

© Joanazinha 28 december 2015


Lees de reacties op het forum en/of reageer, klik HIER