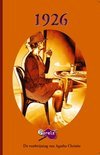 1926
De verdwijning van Agatha Christie
Diverse auteurs

De gegevens: De schrijfster Agatha Christie is verdwenen. 11 dagen lang is ze onvindbaar. Haar auto, met openstaande motorkap en draaiende motor, is gevonden bij een kalksteengroeve. De koplampen branden, de voorwielen hangen over de rand van een afgrond. In de auto liggen een bontjas, een verlopen paspoort en een koffertje met persoonlijke bezittingen zoals kleding. Er wordt een enorme zoekactie gestart. 11 dagen later wordt Agatha Christie gevonden in een hotel in Harrogate Yorkshire. Ze had zich daar ingeschreven onder de naam Theresa Neel. De achternaam van de minnares van haar man, de typiste Nancy Neele. Agatha's moeder was pas overleden, haar man wilde scheiden...
Tot op heden weet niemand waar Agatha Christie die 11 dagen geweest is. Agatha zelf heeft het ook nooit verteld. Geheugenverlies, is haar enige en blijvende verklaring.

Deze overigens waargebeurde feiten waren het uitgangspunt voor de vier schrijvers van dit boekje. Alle vier verzonnen ze een verhaal over wat zich mogelijk in die elf dagen heeft afgespeeld.
Het eerste verhaal Demasqué van Jean-Paul Colin is helemaal in de stijl van Agatha Christie geschreven, mysterieus, spannend, met een aantal moorden die knap door Agatha opgelost worden.
Het tweede verhaal Groeten uit Pau van Peter Ronner vind ik persoonlijk het beste. Dat verhaal gaat meer in op de thuissituatie van Agatha, de mogelijke echtscheiding van haar man Archie, hij wil verder leven met zijn minnares. Agatha verzet zich fel tegen deze scheiding maar haar man slaat terug. In dit verhaal is te lezen hoe... het verhaal heeft een prachtig, zeer verrassend plot!
Vermist van Carien Touwen heeft weer een heel andere benadering van het gebeurde in die elf dagen. Daarin vertelt een opa op zijn sterfbed aan zijn favoriete kleinkind de ware toedracht. Opnieuw een goed verhaal waarbij Agatha een mooie rol speelt.
Het laatste verhaal De onbekende schrijver van Johan van de Velde heeft ook een zeer verrassende wending. Het boek van Agatha The Murder of Roger Ackroyd geschreven in 1926 speelt daarbij een belangrijke rol. Opnieuw wordt Agatha's incasseringsvermogen en begrip op de proef gesteld maar aan het eind van de situatie komt er een twist waarmee zij onmiddellijk tevreden is.

Erg leuk boekje en misschien komt één van de verhalen wel dicht bij de werkelijkheid. Als je de feiten bekijkt dan vermoed je bijna dat Agatha haar verdwijning zelf in scène heeft gezet om mogelijk haar huwelijk te redden maar ook dát zullen we nooit te weten komen. Feit is wel dat Archie en Agatha in 1928 zijn gescheiden. Als het al een stunt van Agatha was dan heeft die niet geholpen...
De verhalen happen heerlijk weg, ze zijn vermakelijk en een beetje spannend. Een lekker 'tussendoor boekje'.

ISBN 9789491074219 Paperback 163 pagina's Uitgeverij Parelz 19 december 2012
Met korte biografie van de auteurs
© Dettie, 24 februari 2013
Lees de reacties op het forum en/of reageer, klik HIER