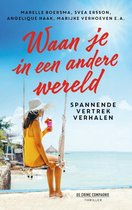 Waan je in een andere wereld
Spannende vertrekverhalen
Marelle Boersma e.a.

In het voorwoord vertelt Marelle Boersma dat een nieuw bestaan opbouwen in het buitenland vaak niet zo makkelijk is als het lijkt. Ook als je alles goed voorbereid hebt kan er nog heel veel fout gaan.
Bundel van dertien verhalen door verschillende schrijvers met een thrillerelement, soms ook een beetje magisch of neigend naar horror. Nu is dat laatste niet zo moeilijk te geloven als je al weet dat het geen rozengeur en maneschijn is in de verhalen die volgen, er gaat natuurlijk van alles fout.

Marelle Boersma bijt zelf het spits af met C'est la vie. Een vrouw trekt de deur definitief achter haar dicht, ze is het zat om steeds slaag te krijgen. Ze is een beetje bang dat ze voor de charmes van haar man zal bezwijken als hij haar probeert terug te krijgen, maar ze heeft haar vertrek heel gedegen voorbereid. Al had ze niet verwacht dat ze hem dit keer graag zou zien komen!
Hij moet namelijk een probleempje oplossen voor haar. Maar als dat gedaan is, is ze dan sterk genoeg om dan daarna voorgoed met hem af te rekenen?

In dit verhaal is een gegeven dat in enkele andere verhalen terugkomt: je hebt een huis gekocht in het buitenland en bij aankomst blijken er andere mensen in te wonen! Krijg ze er dan maar eens uit!
In één geval zijn het wel heel bijzondere bewoners: in het verhaal van Atie Vogelenzang laten die bewoners zich niet zien maar iedere keer als de nieuwe eigenaren een poosje weg geweest zijn treffen ze het huis aan precies zoals ze het de eerste keer aangetroffen hebben! Vreemd geval!
Er van uitgaande dat de schrijvers niet van elkaar wisten waar ze over zouden schrijven is het toevallig dat een bepaald thema meerdere keren voorkomt. Anders uitgewerkt, dat wel. Niet alleen met het reeds bewoonde huis is dat het geval, ook zijn er meerdere verhalen waarin er iets aan de hand blijkt te zijn met de hoofdpersoon, hetgeen heel vervelende gevolgen kan hebben!

De personages reizen naar Parijs, naar Spanje of Zuid-Frankrijk. Ook Denemarken of een Waddeneiland komen aan de beurt. Altijd willen ze een nieuw leven beginnen, om wat voor reden ook. De verhalen variëren ook flink in het al of niet uitgebreid beschrijven van de achtergrond: een landschap, of toeristische informatie.

Ad van de Lisdonk is de enige man in het gezelschap. Hij schrijft een verhaal met een horrorachtige twist, dat speelt in Rome. Carmen Prins heeft zich beziggehouden met wadlopen, en
Marion van de Coolwijk verdient een aparte vermelding. Zij schrijft een spannend verhaal over een drugsbende dat een verrassende afloop kent.
Bij een verhalenbundel met gelijksoortige verhalen valt het aan te raden om zo af en toe het boek te pakken. Bij voorkeur niet alles achter elkaar lezen, zo hou je de spanning er in!

Smaken verschillen gelukkig, waarschijnlijk kiest iedere lezer er zijn of haar eigen favorieten uit. En zo hoort het ook. In ieder geval kun je na afloop van het verhaal dat je las en dat je wel aanstond een korte bio lezen, plus een bibliografie. Dan weet je alvast welke boeken je favoriete schrijver nog meer schreef!

Behalve Marelle Boersma schreven de volgende schrijvers een verhaal: Svea Ersson, Angelique Haak, Marijke Verhoeven, Heleen Smit, Heleen van den Hoven, Carmen Prins, Ad van de Lisdonk, Ingrid Oonincx, Martine Kamphuis, Atie Vogelenzang, Marion van de Coolwijk en Marja West.

ISBN 9789461095121 | paperback | 300 pagina's | Uitgeverij de Crime Compagnie | juni 2021
© Marjo, 22 augustus 2021

Lees de reacties op het forum en/of reageer, klik HIER