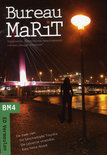 Bureau MaRiT
De zaak van: De beschadigde Toyota, De jaloerse vriendin, Een hete dood
ED Vermeulen

In de schuingedrukte proloog zijn we getuige van de moord op een man in een sauna. De man kan de deur niet meer open krijgen en overlijdt uiteindelijk door de hitte. Het oplossen van deze moordzaak vormt de hoofdmoot van het boek.

De eerste hoofdstukken zijn voor de zaak van de beschadigde Toyota. Dit is eigenlijk maar een kort verhaaltje, dat draait om een burenruzie. De eigenaren van de Toyota beschuldigen hun buren van het beschadigen van hun auto. Dit verhaaltje loopt iets anders af dan verwacht.

Voor de tweede zaak roept Jack, een collega van Marit Johansen, haar hulp in. Een man wil dat z'n vrouw betrapt wordt met haar minnaar. Hij vermoedt namelijk dat de afspraak die ze heeft om met een vriendin in Rotterdam een weekendje op stap te gaan, eigenlijk een excuus is om haar minnaar te ontmoeten. Deze zaak blijkt iets ingewikkelder in elkaar te zitten dan men verwacht en de vriendin speelt daarin een belangrijke rol, waarover ik niets zal verklappen.

En dan is er de moord in de sauna, waarbij Dix haar hulp inroept. Men weet namelijk nog steeds niet of er sprake is van moord, of dat het toch een ongeluk is geweest. De deur van de sauna lijkt namelijk gewoon open te kunnen op het moment dat het lijk gevonden is. Als er sprake is van moord, dan zou de eigenaar van het vakantiehuisje en de sauna, de dader moeten zijn. Hij heeft een verhouding met het slachtoffer, een getrouwde man, die ook een gezin heeft. Het slachtoffer is streng katholiek opgevoed en homoseksualiteit wordt dus als een grote zonde beschouwd. Het gezin is ook behoorlijk streng in de leer en op het moment dat men de dochter spreekt, gaat ze ook stevig te keer over de zonden van haar vader. De zoon lijkt er wat nuchterder over te zijn. Samen met Jack gaat Marit ook nog een keer naar de kroeg waar de geliefde de vermoorde man ontmoet heeft.

In dit boek zitten wat meer cursieve stukken, met de gedachten van de jaloerse vriendin en de moordenaar van het slachtoffer in de sauna. Marit wordt nog steeds heen en weer geslingerd tussen Jack en Dix, die beide hun aantrekkelijke kanten hebben. Jack is een wat avontuurlijk type en misschien een beetje een rauwdouwer, terwijl Dix wat meer zekerheid lijkt te bieden, maar misschien ook wat saai is.

ED Vermeulen, pseudoniem van Esther Danielle Vermeulen, heeft economie gestudeerd op de HES in Rotterdam en werkt nu part-time bij een IT bedrijf. In haar vrije tijd praat ze rechercheurs van verschillende vajgebieden en doet ze resarch naar politiezaken.

ISBN 9789081282673 Paperback 215 pagina's ED Vermeulen Books mei 2013
© Renate, 23 februari 2015
Lees de reacties op het forum en/of reageer, klik HIER
---