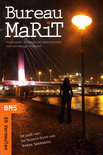 Bureau MaRiT

De zaak van: De bizarre dood van Peter Siemons
ED Vermeulen
Dit keer staat er maar een zaak centraal, maar het is wel een vreemde zaak. Marit Johansen gaat samenwerken met Jack Stevens, haar minnaar en collega-detective, met wie ze in de vorige verhalen ook wel eens samen heeft gewerkt.
Het verhaal begint met een man die het gevoel heeft dat hij al een tijd achtervolgd wordt, als hij van de bushalte naar huis loopt. Hij wordt verdooft en in een busje op een brancard gelegd. Later bevindt de man zich op een operatietafel, waar hij gecastreerd wordt. Er gaat iets mis met de verdoving en de man wordt snel naar het ziekenhuis gebracht, waar men hem op de stoep achterlaat, waarna een anoniem telefoontje volgt. De man overleeft het uiteindelijk niet en de zaak komt in handen van Dix Boeks, van de politie Rijnmond.
Intussen krijgt Marit Johansen bezoek van Benno Mus, die het gevoel heeft dat hij achtervolgt wordt. Hij is bang en wil dan ook dat men zijn achtervolger in de gaten houdt. Dit wordt een klus die Marit niet alleen kan doen en de hulp van Jack, die nu haar partner is, omdat haar broer James er mee gestopt is, pakte ze de zaak aan. Benno Mus gaat iedere avond met z'n hondje wandelen, hetgeen niet bepaald op een liefdevolle wijze gebeurt. Het hondje wordt eerder meegesleurd, dan uitgelaten en Marit vindt het toch maar een vreemde zaak. Men probeert toch wat meer over Benno Mus te weten te komen en wat men ontdekt werpt toch wel een ander licht op de zaak. Marit kan moeilijk ineens tegen de man zeggen dat hij het zelf maar uit moet zoeken, maar wat men over hem ontdekt, zorgt toch wel voor een zekere afkeer.

De zaak van Marit en de zaak van Dix lijken verband met elkaar te houden. Er is kennelijk een groep actief, die pedofielen castreert en het woord 'Pedofiel' in de nek tatoeëert.

Het is weer een spannend verhaal, dat ook de vraag oproept of mensen het recht in eigen hand mogen nemen. Dit keer is het verhaal toch wat minder luchtig dan bij de vorige delen die ik heb gelezen. Toch blijft het gewoon een ontspannend verhaal, dat niet al te moeilijk te volgen is. Echt een lekker tussendoortje, zoals de boeken van Baantjer en De Waal en Baantjer. Natuurlijk zit er ook weer wat romantiek in het verhaal, hoewel het nu wel duidelijk is dat Marit min of meer voor Jack gekozen heeft.
ISBN 9789081282611 | Hardcover | 205 pagina's| ED Vermeulen Books| mei 2014
© Renate, 10 juni 2015
Lees de reacties op het forum en/of reageer, klik HIER
---