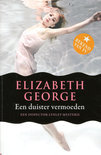 Een duister vermoeden
Elizabeth George

De kern van het verhaal is het onderzoek naar een geval van overlijden waarbij eigenlijk helemaal geen twijfel bestaat dat het een ongeluk was. Waarom wil de oom van de overledene dan toch dat inspecteur Lynley een onderzoek komt instellen? En nog onofficieel ook? Dat geheimzinnige gedoe is niets voor Lynley, hij wordt gedwongen zich in allerlei bochten te wringen, die hun weerslag hebben op zijn leven.
Maar dat speelt allemaal op de achtergrond. Waar het hele verhaal om draait, en waar Lynley zich dan ook op richt is de familie Fairclough. Werkelijk niemand van die familie is een normale gedegen recht door zee burger. Allemaal hebben ze geheimen, die er voor zorgen dat de familie een waar wespennest is.
Aan Lynley de taak om zich daar in te wagen, en het onderzoek dat hij naar eer en geweten uitvoert, tegen zijn zin, in al zijn ingewikkeldheid tot een goed einde te brengen.
Als hij naar Cumbria gaat neemt hij zijn vrienden St James en diens vrouw Deborah mee.
En de schrijfster zou niet Elisabeth George zijn, als ook zij niet hun persoonlijke besognes hadden die verweven raken met het onderzoek. En er loopt nog een journalist rond, die niet echt gelooft in zijn werk, waarschijnlijk terecht.

Het thema is 'familie' in alle opzichten: de kinderwens, hetero- en homoseksuele relaties, vader-dochter(s), vader-zoon, en nog meer.
Eisabeth George is een meester in het vertellen, en ook al vraag je je af of je een misdaadverhaal aan het lezen bent of dat het een roman is, dat maakt niet uit: het sleept je mee, in al zijn verwikkelingen, en als het eenmaal ten einde is, wil je eigenlijk nog meer…
Want hoe loopt het af met die twee kinderen? En was die Kaveh te goeder trouw of had hij zo zijn eigen plannen?
Natuurlijk was ook brigadier Havers in het verhaal aanwezig, zij was achtervang in Londen, en haar verhaal moet toch zeker verder gaan in een volgend boek. Want haar kant van het verhaal ligt volledig open!
Dus we wachten vol spanning op het volgende verhaal over inspecteur Lynley en brigadier Havers, waarbij mevrouw George ongetwijfeld weer een superplot zal bedenken.
Wil je een recht toe recht aan spannend verhaal dan is dit niet de schrijfster die je moet lezen. Maar voor een verhaal waar alles op en aan zit, en waar je echt helemaal in duikt, zijn haar boeken heerlijk!

ISBN 9789400501041 | paperback | | 576 pagina's| Bruna | februari 2012

© Marjo 7 mei 2012
Lees de reacties op het forum en/of reageer, klik HIER