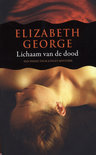 Lichaam van de dood
Elizabeth George

Een boek lezen dat door Elizabeth George geschreven is, is als proberen zo'n houten puzzel die in stukjes voor je ligt in elkaar te zetten. Soms past het stukje, maar heel vaak niet.
In dit boek waarin Inspecteur Lynley en Brigadier Havers hun rollen weer spelen, is Lynley nog met buitengewoon verlof. Isabelle Ardery is aangesteld als plaatsvervangend hoofdinspecteur. Haar eerste vuurproef is al snel aan de orde als een vrouw dood gevonden wordt op een begraafplaats. Al snel vindt ze het nodig om Lynley te vragen om bij het team te komen. Om haar de fijne kneepjes te leren, zegt ze. Maar ook om rust te brengen in het team dat nog zeer loyaal is aan de vorige inspecteur. Hij blijkt inderdaad enkele verkeerde beslissingen recht te kunnen breien. Maar als een verdachte achtervolgd wordt en onder een auto komt, moet ze zelf zien dat ze het hoofd biedt aan de pers, die maar al te graag de politie aan het kruis nagelt. Commissaris Hillier controleert haar doen en laten, hij is een akelige 'bijkomstigheid' die haar hindert.
Intussen is de identiteit van de vermoorde vrouw vastgesteld. Er zijn heel veel personen, die met haar te maken hebben, waarvan de belangrijkste een broer, een vriendin, diverse mannen, een hospita, en een helderziende zijn. Is een van hen de dader? Of is ze het toevallige slachtoffer van een gestoord iemand?
Ardery probeert het team op haar manier aan het werk te zetten, en komt tot de ontdekking dat men niet blindelings doet wat ze hen opdraagt. Dat het deels te maken heeft met het feit dat ze een vrouw is, is een van de thema's die we bij Elisabeth George altijd tegenkomen: er zijn altijd vrouwenhaters, en/of mannen die het niet kunnen hebben dat een vrouw boven hen staat; of dat ze in de weg staat bij een eventuele promotie. En dan zijn er de mannen die juist het tegengestelde gedrag vertonen, ook niet altijd prettig voor een carrièrevrouw.
Bovendien heeft ze natuurlijk ook privé niet alles op orde.

Het privéleven van enkele inspecteurs is ook als altijd bij George een deel van het verhaal. Voor veel lezers is dat juist de kracht van de boeken: Lynley en Havers. Hoopt men niet stiekem dat er iets groeit tussen deze twee tegengestelde persoonlijkheden? In dit boek is de weg vrij wat Lynley betreft: zijn vrouw is immers overleden.
Een ander kenmerk van de boeken van Elizabeth George is dat ze een spel speelt met de lezer. Er zijn steeds perspectiefwisselingen, waardoor de lezer door de belevenissen van de andere spelers te volgen, vaak meer weet dan de inspecteurs. Maar tegelijk laat ze die in hun onderzoek soms dingen ontdekken, die dan niet nader benoemd worden. Ze zien iets, beseffen iets, en gaan dan meteen aan de slag zonder het er met een ander over te hebben. Dan blijft de lezer in het ongewisse. Is het iets wat we al wisten? Of iets nieuws? Dat een van de personages een eigen onderzoek doet, met onorthodoxe methodes, maakt het nog ingewikkelder.
En dan is er in dit boek ook steeds de onderbreking die een heel ander verhaal vertellen, waarvan heel lang niet duidelijk is wat het met het onderzoek naar de moord op de vrouw te maken heeft.
Meester in het creëren van spanning, dat is ze, dit boek, toch al niet het dunste, leg je niet makkelijk weg!

Isbn 978 90 229 9295 1 Paperback 624 pagina's | A.W. Bruna Uitgevers | juli 2010
Oorspronkelijke titel: This Body of DeathVertaling: Fanneke Cnossen
© Marjo, 16 augustus 2010

Lees de reacties op het forum en/of reageer, klik HIER