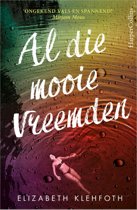 Al die mooie vreemden
Elizabeth Klehfoth

In de zomer van 2007 verdwijnt Grace, de moeder van Charlie. Sommigen menen dat de vader van Charlie daar de hand in heeft gehad, maar er is nooit een lichaam gevonden, dus wat er werkelijk gebeurd is, is voor iedereen een raadsel. De familie van de zakenman Alistair Calloway, de vader van Charlie, is van mening dat Grace alleen maar uit was op het geld van Alistair en dat ze dat gebruikt heeft om te verdwijnen.

Tien jaar later weet de inmiddels zeventienjarige Charlie nog steeds niet wat er gebeurd is met haar moeder. Ze zit inmiddels op een prestigieuze kostschool, waar vooral kinderen van zeer rijke ouders op zitten, jongeren die een Mercedes, of een Porsche hebben en waarvan sommigen hun vakanties op Martha's Vineyard doorbrengen.

Charlie wordt uitgenodigd om lid te worden van de A's, een soort geheime groep op school, waarvan de leden een aantal opdrachten moeten uitvoeren, om lid te kunnen worden. Dit zijn altijd opdrachten, die op z'n zachtst gezegd op het randje zijn. Het idee is dat de leden van de groep elkaar altijd zullen steunen, ook doordat ze door de daden die ze hebben verricht om lid te worden allemaal kwetsbaar zijn. Het falen voor een opdracht wordt genadeloos afgestraft.

Charlie wordt benaderd door haar oom Hank, de broer van Grace, die haar een enveloppe met foto's geeft en haar uitnodigt voor een familiebijeenkomst om haar moeder te herdenken. De familie van Grace is van eenvoudige komaf en lijkt zeer warm te zijn. Het is een beetje het tegendeel van de wereld waarin Charlie zich bevindt. De foto's brengen Charlie tegen wil en dank op een speurtocht naar het verleden, die haar confronteert met de verschrikkelijke waarheid over haar familie en die haar in gevaar brengt.

In hoofdstukken die zich in 2007 afspelen, leren we Grace kennen en uiteindelijk komen we langs deze weg ook te weten wat er allemaal werkelijk is gebeurd. Later gaan we ook nog verder terug in de tijd en leren we Alistair en zijn familie beter kennen. Hij komt uit een zakenfamilie, die een vorm van sociaal Darwinisme voorstaat. Ook de kinderen worden tegen elkaar uitgespeeld. Zo krijgt Alistair van z'n vader de opdracht om de rozenstruik van z'n moeder, waar zij zeer aan gehecht is, te kappen, terwijl z'n broer Teddy de opdacht krijgt om de struik te beschermen. Alistair slaagt in z'n opdracht en Teddy wordt gestraft, want hij heeft gefaald.

De vader van de jongens heeft zelf z'n broers van hun erfenis beroofd. Alistair merkt op een gegeven moment op dat een zakenman geen geweten dient te hebben, omdat hij dan nooit keiharde bezuinigingsmaatregelen kan nemen, zoals het ontslaan van een medewerker, wiens vrouw kanker heeft en bij wie de behandeling niet aanslaat, of een alleenstaande moeder met 3 kinderen, omdat ze hun targets niet halen. Grace is op dat moment de vriendin van Teddy, terwijl Alistair een relatie heeft met Margot, een zeer ambitieuze vrouw, die medicijnen studeert. Alistair is er van overtuigd dat ze een psychopaat is, wat hij alleen maar als een voordeel ziet.

Het boek zit vol mensen waar ik bitter weinig sympathie voor kon voelen en dat maakte het toch wat minder aantrekkelijk. Het was wel een spannend verhaal, dat toch net iets anders afloopt dan je misschien verwacht. Ik moet wel opmerken dat het einde misschien toch wel een typisch Amerikaans tintje heeft.
ISBN 978 94 027 0403 7 | Paperback | pagina's | Harper Collins | juni 2019
vertaald door Anna Livestro
© Renate 7 juli 2019
Lees de reacties op het forum en/of reageer, klik HIER