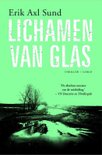 Lichamen van glas
Erik Axl Sund

Hoofdinspecteur Jens Hurtig is niet blij met het onderzoek dat hij in zijn maag gesplitst krijgt. Een opvallend aantal jongeren heeft zelfmoord gepleegd. Is er sprake van een toevallige samenloop van omstandigheden of is er meer aan de hand? Jens ontdekt dat de jongeren vreemd genoeg allemaal een oortelefoon droegen. Op het moment van hun dood droegen ze een walkman bij zich. Jens begrijpt dat er sprake van een verband moet zijn. Jongeren luisteren tegenwoordig toch helemaal niet meer naar muziek dat op een cassettebandje is opgenomen?

Het onderzoek naar de zelfdodingen bezorgt Jens een onaangenaam gevoel. Het is te confronterend voor hem. Vijftien jaar geleden pleegde zijn eigen zusje zelfmoord. Jens draagt haar dood nog altijd als een groot verdriet met zich mee. Hij heeft haar dood niet kunnen voorkomen, wat als een loodzware last voelt. De hedendaagse zelfmoorden volgen elkaar in hoog tempo op. Het lijkt wel een epidemie. Wat is er toch gaande? Waarom verkiezen de tieners de dood boven het leven? Een van de zelfmoordenaars is Maria, een kennis van zijn goede vriend Isaak.

Er wordt een moordonderzoek aan het takenlijstje van Jens toegevoegd. Ene Fabian Modin is in de metro neergestoken. In eerste instantie doet de dood van Modin aan een roofoverval denken maar al snel duikt er nieuw bewijs op. Fabian Modin is met voorbedachten rade vermoord. Jens mist zijn cheffin Jeanette Kihlberg meer dan ooit. Naast zijn chef, is Jeanette ook een vriendin. Helaas zit ze al meer dan een jaar met een burn-out thuis.

Net als het moordonderzoek, vordert ook het onderzoek naar de zelfmoordepidemie maar langzaam. Jens zoekt naar een gemeenschappelijke noemer. Is er soms iemand die de jongeren tot zelfmoord aanzet? Vaja, de beste vriendin van Maria én de adoptiedochter van goede vrienden van Isaak, verschaft hem nieuwe inzichten. Hij ontdekt dat het meisje lugubere concerten bijwoont en zich daarbij moedwillig verwond. Vaja is groot fan van ene "Honger", een mysterieuze muzikant die bijzonder in de smaak valt bij depressieve jongeren. Vaja is niet de enige die zichzelf snijdt. Wanneer Jens een concert van Honger bijwoont, ontvouwt zich een gruwelijk tafereel.

Wie is Honger? Zet hij jongeren daadwerkelijk tot zelfmoord aan? De lezer weet maar al te goed dat Jens op het juiste spoor zit. Honger is een totaal verknipt figuur die voor elk slachtoffer een persoonlijk cassettebandje met muziek opneemt. Hij moedigt ze aan zelfmoord te plegen. Honger vindt de dood beter dan het leven. Hij bewijst zijn medemens een dienst, vindt hij zelf. Zelf is hij ook depressief. Hij flirt met de dood. Het is duidelijk dat Honger al lange tijd niet meer op het randje van waanzin balanceert. Hij is over de rand getuimeld. Een weg terug is er niet meer. Kan Jens zijn identiteit achterhalen?

Wanneer er opnieuw een moord wordt gepleegd, ontdekt Jens een verband. Beide slachtoffers kenden elkaar. Ook kenden zij Vaja's adoptieouders en Jens' beste vriend Isaak. De gevoelige Isaak is totaal uit het veld geslagen. Ook met Vaja lijkt het bergafwaarts te gaan. Jens zelf begint zich steeds meer af te vragen of het toeval is dat Vaja's familie en hun vriendenkring zowel zijdelings bij de zelfmoorden als bij de moorden betrokken zijn.

Erik Axl Sund is het pseudoniem van het Zweedse schrijversduo Jerker Eriksson en Håkan Axlander Sundquist. Eerder schreven ze samen – onder de naam Eriksson & Sundquist - de Victoria Bergman-trilogie. Lichamen van glas is een geheel nieuw verhaal met bekende personages. Ook de verhaalsfeer is vertrouwd. Het is melancholisch en duister. Deze auteurs lijken een voorkeur voor zware onderwerpen te hebben. Lichamen van glas vormt daarop geen uitzondering. Wat zo knap is, is dat toch er een enorme aantrekkingskracht van het verhaal uitgaat. Ieder mens kampt immers wel eens met een neerslachtige bui. Hoe kan het dat de hoofdpersonages in het boek de mooie kanten van het leven niet meer zien? Hoe kan het dat ze zo depressief zijn geworden? Hebben ze door hun ontmoeting met Honger hun doodsvonnis getekend?

Lichamen van glas is een thriller voor mensen die stevig in hun schoenen staan en die kunnen relativeren. Achter het verhaal over depressie en zelfdoding gaat een verhaal over levenslust en kracht verscholen maar het is beslist niet de bedoeling van de auteurs de lezer te ontzien. Deze schokkende thriller is schrikbarend goed maar niet geschikt voor tere zieltjes!

ISBN 9789023496137 | paperback | 345 pagina's| Cargo | januari 2016
Vertaald door Elina van der Heijden en Wiveca Jongeneel
© Annemarie, 25 januari 2016
Lees de reacties op het forum en/of reageer, klik HIER