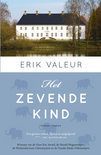 Het zevende kind
Erik Valeur
Op 5 mei 2008 ontvangt Orla Pil Berntsen, de stafchef van de Deense minister van Nationale Zaken, een brief. Natuurlijk ontvangt Orla wel vaker post op kantoor maar deze brief trekt toch meteen zijn aandacht. De adressering bestaat uit zestig keurig uitgeknipte letters uit een krant of tijdschrift.

De inhoud van de envelop is nog veel vreemder. Er zit een paar babysokjes in evenals een fotokopie van een oud artikel uit een tijdschrift. Het artikel gaat over zeven kleine kinderen. Verder bevat de envelop een adoptieformulier. Orla begrijpt niet waarom iemand hem deze gegevens stuurt. Toch voelt hij zich niet op zijn gemak want Orla verbleef als kind tijdelijk in een kindertehuis.

De geheimzinnige afzender heeft dezelfde informatie ook naar Knud, een journalist van de krant Fri Weekend, gestuurd waarbij vermeld is dat Orla een kopie heeft ontvangen. De interesse van Knud is gewekt en hij ontdekt dat het oude artikel gaat over zeven kinderen die in 1961 in de zogenoemde Olifantjeskamer van het beroemde kindertehuis Kongslund verbleven. Knud speurt naarstig verder en schrijft uiteindelijk een onthullend artikel in de krant: Was Kongslund betrokken bij activiteiten waarbij beroemde lieden op discrete wijze van ongewenst nageslacht af werden geholpen?

De afkomst van de zeven kinderen uit de Olifantjeskamer blijkt niet te achterhalen. Dit staaft het vermoeden van Knud. Er is duidelijk veel moeite gedaan te verbergen wie de ouders van deze kinderen zijn. Een van de zeven kinderen, Marie, is de pleegdochter van de oud-directrice van het weeshuis. Marie heeft de andere kinderen al die jaren stiekem gevolgd en weet verrassend veel over hen. Ze geeft echter maar mondjesmaat informatie aan Knud prijs en doseert hierbij heel gewiekst wat ze wel en wat ze niet onthult.

Dit ruim zevenhonderd bladzijden tellende boek vertelt het uitgebreide verhaal van de zeven weeskinderen. De meesten van hen dragen geheimen met zich mee. Om de waarheid boven tafel te krijgen worden hun levens uitgepluisd waardoor oud zeer opgerakeld wordt. Een andere verhaallijn is politiek getint. De regering wil zijn handen niet branden aan de uitwijzing van een 11-jarig asielzoekertje uit Sri Lanka. Kan dit afgehandeld worden op een wijze waarbij men zich niet de woede van het Deense volk op de hals haalt?

Het zevende kind is een bijzonder intrigerend boek. De auteur heeft het verhaal van alle mogelijke kanten belicht en ik ging volledig in het verhaal op. Interessant weetje is dat de schrijver zelf ook enkele jaren in het kindertehuis heeft gewoond. Sommige onthullingen had ik van tevoren al door, anderen wisten me te verrassen. Het is een verhaal over doofpotaffaires en misleiding. Over persoonlijke ontwikkeling, liefde en afkomst maar bovenal gaat dit boek over eenzaamheid. Heb je genoten van (de serie of het boek) Borgen? Dan valt dit vast ook bij je in de smaak! Het zevende kind heeft een aantal mooie onderscheidingen in de wacht gesleept en als ik bij machte zou zijn het ook een prijs toe te kennen dan had ik dat gedaan. Dit is een voortreffelijk boek.

ISBN 9789023476108| paperback | 718 pagina's| Cargo | januari 2013
Vertaald door Angelique de Kroon
© Annemarie, 14 augustus 2013
Lees de reacties op het forum en/of reageer, klik HIER
---