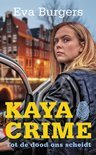 Tot de dood ons scheidt
Eva Burgers

Ook deel twee hapt lekker weg...
De 23-jarige rechercheur Kaya Elysee is de hoofdpersoon in deze nieuwe serie krimi's. Ze spelen zich af in Amsterdam. Chris is haar min of meer vaste partner.

In dit tweede deel worden Kaya en Chris bij een brand met dodelijk afloop geroepen. Het lijkt sterk op brandstichting. Twee vrouwen zijn omgekomen: Ellen en haar dochter Helena.
De ex van Ellen blijkt vlakbij te wonen, hij is er snel bij omdat een buurman hem gewaarschuwd heeft. Hij is kapot: hij was dol op zijn dochter, en met zijn ex had hij ook nog een goed contact, ook al woont hij nu samen met Laura.
Peter vertelt de rechercheurs dat zijn ex bang was voor een junk, die vaak in hun portiek kwam schuilen. Deze Rob is snel gevonden, maar ontkent in alle toonaarden.
Laura wordt verdacht: zij blijkt een verhouding te hebben met de buurman, Anton, en het is wel vreemd dat zij als modestyliste helemaal niet op het internet te terug te vinden!
Ellen, Anton en Peter kennen elkaar nog van vroeger: ligt daar een motief? Ligt de de oplossing in huidige driehoeksverhouding Peter, Laura en Anton? Of is het Rob, zoals Peter denkt?
Aan Kaya om het uit te zoeken.

Kaya Crime is echt een serie, al bevat ieder deel een afgerond verhaal: er wordt regelmatig terugverwezen naar het eerste deel. Heb je dat niet gelezen, dan mis je een deel de achtergrond van de hoofdpersoon, waarom ze handelt zoals ze handelt. De titel is misschien wat ongelukkig gekozen, omdat nog andere boeken deze titel dragen, maar dat het hier gaat om een aparte serie is wel duidelijk.
Het leest lekker vlot weg, als een echte krimi, waar nu eens een vrouw de hoofdrol heeft.

Eva Burgers (1969) heeft als journalist bij verschillende kranten gewerkt, maar ook als redactiemedewerker bij een uitgeverij. Zij begon met het schrijven van boeken in 2008, debuteerde in 2011 met het jeugdboek Hij is van mij, het eerste deel uit de serie Spotlights. Intussen is het derde deel al uitgekomen, en nu schrijft ze ook nog boeken in deze serie KAYA crime.

ISBN 9789020609820 |paperback |160 pagina's |Uitgeverij Kluitman|februari 2015
© Marjo, 5 maart 2015
Lees de reacties op het forum en/of reageer, klik HIER!
---