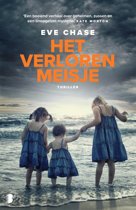 Het verloren meisje
Eve Chase


"Words that dance on the tongue", dat zijn woorden die de Engelse, in Oxford woonachtige Eve Chase wil schrijven. En dat is haar goed gelukt in haar tweede boek: Het verloren meisje. Het is geschreven in een mooie, poëtische stijl die aangenaam leest, waarbij het verhaal als tegenhanger een duister mysterie van vermissing en moord herbergt.

Het boek kent 2 tijdlijnen: de zomer van 1959, waarin de 4 tienerzusjes Wilde logeren bij hun oom en tante op het mooie landhuis Applecote Manor. Vijf jaar geleden is hun nichtje Audrey spoorloos verdwenen en sinds die tijd hebben ze hun oom en tante niet meer gezien.

Bij de tweede tijdlijn is het ruim vijftig jaar later en kopen Jessie en haar man Will Applecote Manor en gaan daar wonen met hun 2 kinderen: de 16-jarige Bella (dochter van Will uit zijn eerste huwelijk) en hun peuter Romy. Bella, haar 16-jarige stiefdochter, maakt het Jessie niet gemakkelijk en dat wordt er tijdens die eerste zomer op Applecote Maner niet beter op.

Eve Chase schetst met haar heldere schrijfstijl een duidelijk beeld van het leven van de verschillende bewoners van Applecote Manor in heden en verleden. De band van de zussen Wilde wordt door de ik-persoon Margot omschreven als: 'Ik weet niet wie wij zullen zijn zonder elkaar om ons te onderscheiden. Haal een van ons er tussenuit en we zullen allemaal ons evenwicht verliezen, alsof er een poot onder de keukentafel uit wordt gezaagd'. En dat is precies wat er die zomer gebeurt wanneer 2 jonge mannen aandacht aan de zussen besteden. Rivaliteit, jaloezie en wantrouwen eisen hun tol; de hechte zussenband valt uit elkaar. Daarbij drukt de verdwijning van Audrey nog steeds een grote stempel op het dagelijks leven op Applecote Manor.

Ook in het gezin van Jessie heerst onrust. Will moet onverwacht veel weg voor zijn werk, waardoor Jessie in een groot huis achterblijft met een onwillige stiefdochter en een omgeving die haar niet echt verwelkomt.

De personages, het huis en de directe omgeving worden beeldend beschreven. Je kunt je goed verplaatsen in de levens van de mensen in heden en verleden. Er verschijnen de laatste tijd veel boeken waarin de schrijver de plot vertelt door gebruik te maken van verschillende tijdlijnen. Dat wordt de ene keer beter uitgewerkt dan de andere. Eve Chase beheerst deze techniek uitstekend; zij slaagt erin de lezer moeiteloos mee te nemen van die heftige zomer in 1959 naar het heden en terug. Beide delen, die afwisselend per hoofdstuk naar voren komen, zijn boeiend met een langzaam oplopende spanningsboog.

Het verloren meisje is een meeslepende roman, een kruising tussen een feelgood roman en een thriller. Daarbij dient opgemerkt te worden dat het thrillerdeel gebruikt wordt als vehikel om de verhoudingen in de gezinnen die Applecote Manor bewonen op scherp te zetten. Hoe gaan ze met tegenslagen om en hoe beïnvloedt dat hun levens. Het is – ondanks de super intrigerende proloog die je direct het verhaal inzuigt – niet de hoofdmoot van het boek.

De karakters van de zusjes Wilde, Jessie en haar stiefdochter Bella zijn goed uitgewerkt; de onderlinge band komt heel duidelijk naar voren. Veel lezers zullen zich gemakkelijk in personages of gebeurtenissen kunnen herkennen. Dat maakt dit boek tot een aangenaam leesavontuur die dicht op de huid kruipt. De toevoeging van een goed uitgewerkt mysterie verhoogt dat gevoel alleen maar.

ISBN: 9789022577301 | Paperback | 332 pagina's | Uitgeverij Boekerij | maart 2018|
vertaald door Lydia Meeder
© Janneke Bouwman, 1 november 2018
Lees de reacties op het forum en/of reageer, klik HIER