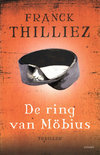 De ring van Möbius
Franck Thilliez


Stéphane Kismet droomt. Nu droomt iedereen elke nacht maar Stéphane kon zich nooit een droom herinneren. Tot nu toe. Hij kan zich zijn dromen ineens haarscherp voor de geest halen. De dromen blijken geen gewone dromen te zijn. Wat hij droomt komt namelijk een aantal dagen later uit. Zes dagen en 20 uur later om precies te zijn. Helemaal vreemd wordt het als blijkt dat de dromen boodschappen zijn. Boodschappen van zichzelf. Van zijn toekomstige ik. De boodschappen zijn bedoeld om gebeurtenissen die gaan plaats vinden te voorkomen. Maar wat gaat er gebeuren? En wat moet hij doen om dit te voorkomen? En waarom hij? De informatie die hij doorkrijgt is miniem en hij probeert zo goed en zo kwaad als het gaat het juiste te doen. Hierdoor vertoont hij vreemd gedrag wat zijn toch al kwetsbare huwelijk geen goed doet.


De dromen zijn allesbehalve prettig. Het is duidelijk dat er iets afschuwelijks gaat gebeuren. Elke nieuwe droom versterkt dit gevoel. De dromen houden verband met een aantal recente moorden. Twee vrouwen zijn op een gruwelijke manier gemarteld en vermoord. Beide vrouwen hebben een meer dan gemiddelde interesse voor mensen met verminkingen of een aangeboren afwijking aan het uiterlijk. De moordenaar lijkt deze interesse te veroordelen. Maar wat heeft dit met Stéphane te maken? Is hij deze moordenaar? Hij maakt immers monsters en maskers voor horrorfilms en houdt zich dus, in ieder geval beroepsmatig, bezig met lugubere zaken.


Door de aanwijzingen in zijn dromen duikt Stéphane op vreemde plaatsen op. Locaties die verband houden met het moordonderzoek. Het duurt dan ook niet lang voordat hij in aanraking komt met de politie. Met rechercheur Vic Marchal om precies te zijn. Door zijn dromen beschikt Stéphane over de informatie dat de zwangere vrouw van Vic, Céline, iets naars gaat overkomen. Hij probeert met man en macht te voorkomen dat Céline een vruchtwaterpunctie zal laten doen. Maar zowel Vic als Céline geloven de verward overkomende man niet. Dan verliest Céline haar baby. Er is iets mis gegaan tijdens de punctie. Wat Stéphane hen had voorspeld is waarheid geworden.


Vic en Stéphane gaan samen de strijd aan. Maar waartegen? Tegen het lot? Om te voorkomen wat staat te gebeuren? Dat is het onderwerp van dit boek: Kan het lot veranderd worden of staat alles al vast? Komen we allemaal uiteindelijk, ongedacht onze daden, toch bij het voorbestemde eindpunt uit? Een vriend van Stéphane, Jackie, zegt hierover:


"We lopen op een ring van Möbius" om daarna uit te leggen "Een Möbiusring, of Möbiusband, een wiskundig curiosum met maar één zijde, met maar één "weg" die je nooit meer kunt verlaten als je er eenmaal overheen loopt. Je loopt steeds opnieuw hetzelfde traject, wat je ook doet, tot in lengte van dagen. De ring van Möbius is het eeuwige herbegin."

De spanning zit er meteen in en wordt gedurende het gehele boek vastgehouden. Het onderwerp is origineel en gedurfd gekozen. Wel ben ik iets te nuchter voor dit boek. Het is voor mij soms te vergezocht. De lezer moet dus wel zijn fantasie gebruiken en zich voor kunnen stellen dat de theorieën in het boek ook echt in praktijk kunnen worden gebracht.


Franck Thilliez weet met dit boek de lezer van begin tot eind te boeien. Ook nuchtere mensen als ik worden vroeg of laat meegesleept door dit bloedstollende verhaal.


ISBN 9789021803654 | paperback | 445 pagina's | Sijthoff | april 2010
Vertaald door Richard Kwakkel
© Annemarie, 6 september 2011
Lees de reacties op het forum en/of reageer, klik HIER