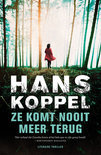 Ze komt nooit meer terug
Hans Koppel

Twee mannen, een zakenman en een journalist, bekijken een oude klassenfoto:

'De vier stoere kinderen helemaal achterin. Met hun armen over elkaar staarden ze zelfverzekerd in de camera en straalden ze wereldheerschappij uit. Te oordelen naar de tevreden uitdrukking op hun gezichten konden ze zich onmogelijk een andere wereld of andere tijd voorstellen dan die waarin ze zich bevonden.'

Vier mensen uit deze groep jongeren van ongeveer zestien jaar oud, hebben intussen - langer geleden of pas onlangs - de dood gevonden, zij figureren als zodanig in het verhaal.
Een voorval uit die tijd werpt nu zijn schaduw op de gebeurtenissen, want nummer vijf is Ylva om wie het verhaal draait.
Op een dag komt ze niet thuis van haar werk. Nu is ze een levensgenieter, en blijft wel vaker weg, maar dan zou ze gebeld hebben. Haar man Mike heeft evenwel niets van haar gehoord. Hij licht tenslotte de politie is, maar die denken eerst dat ze wel terug zal komen, en later, als dat niet het geval blijkt, dat Michael zijn vrouw heeft vermoord. Maar er is geen lijk, dus geen zaak. Michael gaat zo goed en kwaad als het gaat door met zijn leven, hij zorgt voor hun dochter, en wordt na verloop van tijd opnieuw verliefd. De lezer weet dat Ylva in handen is van een ouder echtpaar, dat op slechts een steenworp afstand woont van haar woning. Ze leeft, maar is hun speelbal.
De journalist krijgt toevallig lucht van Ylva's verdwijning, maar aangezien de politie vindt dat er geen zaak is, is het de vraag of dat helpt. En Michael, die went langzaam aan een nieuw leven. Maar natuurlijk is Ylva er zelf ook nog...

Vanuit steeds wisselende perspectieven wordt een verhaal opgezet rondom dat voorval uit het verleden, zonder dat daar verder veel aandacht aan besteed wordt. Dat komt pas als een in mijn ogen overbodig nawoord. Hans Koppel is ook kinderboekenschrijver, dat proef je nog aan zijn manier van schrijven, en misschien houdt hij er daarom van om losse eindjes vast te binden.
Ik verbaas me dus over de opmerking op de omslag, dat 'het boek Zweedse lezers al het hele jaar in zijn greep houdt.' Het is best spannend, maar niet tenenkrommend. Dat ligt aan de stijl, maar heeft ook te maken met het feit dat je als lezer vanaf het begin op de hoogte bent van Ylva's situatie. Dat die berust op een psychologische manipulatie die als non-fictiestukjes tussen de tekst staan, is ook té.
Zeker: je leest het boek uit, omdat je nog van alles verwacht, en de slotscènes zijn niet echt voor de hand liggend, maar 'de angstaanjagendste thriller van 2012'? Nee, in dat opzicht valt het tegen.

ISBN 9022312712 | paperback | 463 pagina's | Manteau Antwerpen | 1993
© Marjo, 1 augustus 2012
Lees de reacties op het forum en/of reageer, klik HIER