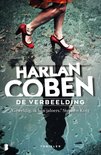 De verbeelding
Harlan Coben

Het gevaar dient zich altijd 's nachts aan. Overdag functioneert Maya Stern goed maar zodra ze haar ogen sluit, beleeft ze alles opnieuw. De geluiden die ze hoort zijn levensecht en jagen haar hevige angst aan. Maya heeft een posttraumatische stressstoornis (PTSS). Ze heeft het tijdens een pittige overzeese legermissie opgelopen. Na de missie heeft Maya eervol ontslag genomen. Ze moest wel. Niet alles was immers vlekkeloos verlopen. Tegenwoordig geeft ze vlieglessen. Het voordeel van haar nieuwe leven is dat ze vaker bij haar tweejarige dochtertje Lily kan zijn.

Lily heeft alleen haar moeder nog. Maya's echtgenoot Joe, de vader van het meisje, is enkele weken geleden gestorven. Een gewelddadige beroving in Central Park kostte hem het leven. Het lijkt wel of Maya door de dood achtervolgd wordt. Eerst in het leger en nu Joe. En dat is nog niet alles. Enkele maanden geleden is Maya's zus Claire gestorven. Net als Joe werd ze vermoord. Maya mist haar nog altijd enorm. Ze was dol op Claire. De dader is nooit gepakt. Waarom moest Claire sterven? Ze was een goede moeder voor haar twee kinderen. Haar echtgenoot Eddie redt het nauwelijks zonder haar en kijkt regelmatig te diep in het glaasje. Maya ergert zich aan hem. Is Eddie altijd zo'n slap figuur geweest? Was het huwelijk van Eddie en Claire eigenlijk wel goed?

In korte tijd heeft Maya twee naasten verloren. Twee mensen van wie ze intens veel hield. Maya doet haar uiterste best om op de been te blijven. Gelukkig kan ze de zorg voor Lily delen met het uiterst betrouwbare kindermeisje Isabella. Zij werkt al jaren voor Joe's steenrijke familie. Lily is dol op haar, iets wat Maya zowel een gevoel van blijdschap als jaloezie bezorgt. Hoewel ze Isabella door en door vertrouwt, heeft ze de nannycam die ze van haar goede vriendin Eileen kreeg toch aangesloten. In een digitale fotolijst is een camera verstopt die aanspringt als er beweging wordt waargenomen. Op deze manier kan Maya controleren of Isabella ook goed voor Lily zorgt als ze zich onbespied waant. Maya heeft geen enkele reden om Isabella van wangedrag te verdenken maar er is de laatste tijd veel gebeurd. De nannycam mag blijven.

Maya controleert de filmbeelden regelmatig. Er is niks verdachts te zien. Isabella zorgt vol toewijding voor de kleine Lily en het meisje ziet er tevreden uit. Is het allemaal misschien iets te idyllisch? Heeft Isabella echt niet door dat ze in de gaten wordt gehouden? Dan ziet Maya iets vreemds. Er bevindt zich een vreemde in de woonkamer. Een man. De onbekende gaat op de bank zitten en neemt Lily, die duidelijk blij is hem te zien, op schoot. Daarna glimlacht de man, waarbij hij recht in de camera kijkt. Het is Joe, haar dode echtgenoot. Maya kan haar ogen nauwelijks geloven.

In De verbeelding draait het allemaal om de dood van Joe en Claire. Is Joe wel echt dood? Wanneer Maya haar kindermeisje de opgenomen beelden laat zien, spuit Isabella pepperspray in Maya's ogen waarna ze ervandoor gaat. Wanneer Maya de pijn en schrik enigszins te boven is, ontdekt ze dat het geheugenkaartje van de fotolijst is verdwenen. Tegenover de politie beweert Isabella dat Maya doordraaide en haar een zwart scherm toonde. Het kaartje heeft ze nooit gezien.

Verbeelding of niet, Maya beseft dat ze pas verder met haar leven kan als ze de waarheid kent. Heeft ze de beelden echt gezien of is ze er geestelijk slechter aan toe dan ze dacht? Wanneer de politie haar vertelt dat Joe en Claire met hetzelfde wapen zijn vermoord, is Maya vastbesloten de onderste steen boven te krijgen. Wat is het verband tussen de twee moorden? Wie had er belang bij hun dood?

Opnieuw heeft Harlan Coben een enorm meeslepend én spannend verhaal geschreven. Hij is een meester in het bedenken van verrassende plots. Ook nu laat de waarheid zich niet zomaar raden waardoor je als lezer volledig het verhaal in wordt gezogen. Over zijn vorige boek – Dood spel – was ik minder tevreden maar met De verbeelding heeft Coben zijn kleine misstap ruimschoots goedgemaakt!

ISBN 9789022565162 | paperback | 382 pagina's | Boekerij | mei 2016
Vertaald door Martin Jansen in de Wal
© Annemarie, 13 juni 2016
Lees de reacties op het forum en/of reageer, klik HIER