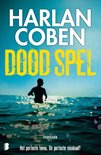 Dood spel
Harlan Coben

Hun liefde leek wel uit een film weggeplukt. Laura Ayers was een adembenemend knappe zakenvrouw. Een voormalig topmodel zelfs. Haar kersverse echtgenoot was niet minder beroemd. David Baskin genoot als uitmuntend basketbaltalent wereldwijde faam. Niet alleen vormden ze samen het perfecte plaatje, hun liefde was puur en oprecht. Laura en David hadden het ware geluk gevonden. Toch was niet iedereen blij met hun relatie. Laura's moeder Mary maakte het haar dochter zo moeilijk dat het stel naar Australië vluchtte om daar onbekommerd van hun wittebroodsweken te kunnen genieten. Hun geluk was echter maar van korte duur.

Terwijl Laura het aangename met het zakelijke combineerde en een belangrijke deal sloot, vertrok David naar het strand voor een verkwikkende zwempartij in zee. David was een geoefende zwemmer maar toch keerde hij niet terug. Urenlang probeerde Laura de paniek te onderdrukken maar uiteindelijk was ze haar angst niet langer de baas. Was David iets overkomen? Tal van angstige vermoedens buitelden over elkaar heen en uiteindelijk won haar grootste angst het van de rest. David was dood. Verdronken in zee. Zijn ontzielde lichaam was meedogenloos tegen de rotsen geworpen waardoor het hevig toegetakeld was. Het sprookje was voorbij. Laura keerde gebroken naar de Verenigde Staten terug.

Laura vindt het moeilijk haar leven weer op te pakken. Ze mist David meer dan ze ooit voor mogelijk heeft gehouden. Hij was haar grote liefde. Zijn dood laat haar maar niet los. Wat is er in zee met David gebeurd? Is hij onwel geworden? David was een geoefende zwemmer. Hij zou nooit te veel van zijn lichaam hebben gevergd. Waarom is hij dan toch in de problemen gekomen? Wanneer Laura tijdens het voorlezen van Davids testamant ontdekt dat er een grote geldsom is verdwenen, stort ze zich op het mysterie. Het gaat haar niet om het geld - ze is immers rijk genoeg - maar om de misdaad op zich. Iemand heeft zich na Davids dood voor hem uitgegeven, zijn bankrekening opgeheven en het aanzienlijke saldo naar een onbekende rekening laten overboeken. Was Davids dood wel een ongeluk of is er iets heel anders aan de hand?

Laura weet niet dat er onlangs een geheimzinnige operatie is uitgevoerd. Ene Mark Seidman heeft zich een compleet nieuw uiterlijk aan laten meten. Zelfs zijn stem is anders geworden. Mark is onherkenbaar veranderd. Het is onmogelijk om zelfs maar een glimp van zijn oude uiterlijk op te vangen. Waarom heeft hij ervoor gekozen om voortaan als een ander door het leven te gaan. De lezer vermoedt al snel dat het om David gaat. Vooral wanneer blijkt dat Mark een groot basketbaltalent is. Maar… waarom zou David zichzelf van de aardbodem hebben laten verdwijnen? Als hij niet langer bij Laura wilde zijn, had hij het toch gewoon uit kunnen maken? Waarom heeft hij voor een compleet nieuwe identiteit gekozen?

Harlan Coben is een kei in het bedenken van complexe en meeslepende verhaallijnen. Dit keer is hij echter iets te fanatiek geweest. Het verhaal is "over the top". Dood spel is absoluut geen slecht boek maar het behoort niet tot Cobens beste titels. Het verhaal is niet geloofwaardig genoeg. Te vergezocht. De hoofdpersonen zijn oppervlakkig en de ontknoping is teleurstellend. Van een schrijver als Coben verwacht ik gewoonweg een beter boek.

Harlan Coben is een zeer begenadigd schrijver. Hij kan zich een enkele misstap veroorloven. Dood spel is misschien geen voortreffelijke thriller, het leest wel degelijk vlot weg. Mijn vertrouwen in deze auteur staat nog altijd als een huis en ik verheug me op zijn volgende boek. Op een misser kan wel eens een echte topper volgen!

ISBN 9789022573624 | paperback | 512 pagina's| Boekerij | november 2015
Vertaald door Martin Jansen in de Wal
© Annemarie, 28 december 2015
Lees de reacties op het forum en/of reageer, klik HIER