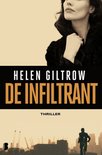 De infiltrant
Helen Giltrow

Tegenwoordig gaat Karla door het leven als de gedistingeerde Charlotte Alton. Charlotte is een keurige, rijke vrouw. Een onberispelijke vrouw die chique aangelegenheden bezoekt. Toen Charlotte nog Karla heette, handelde ze in gegevens en identiteitsbewijzen. Bij Karla kon je terecht als je bepaalde informatie wilde laten verdwijnen, of juist aan het licht wilde brengen. Een paar jaar geleden heeft Karla haar activiteiten overgedragen aan haar trouwe bondgenoot Craigie. Vrijwel niemand weet dat Charlotte Alton en Karla één en dezelfde zijn, laat staan dat iemand weet met welke activiteiten Karla zich bezighoudt. De man die in het Royal Opera House contact met haar zoekt, weet dat echter wel.

De man die zich, keurig in pak, tussen de rest van de aanwezigen bevindt, heet Simon Johanssen. Karla heeft hem al twee jaar niet gezien maar nu doet hij een beroep op haar. De elegante Charlotte moet plaats maken voor de doortastende Karla. Johanssen heeft een ongewoon verzoek. Hij wil informatie over het Programma.

Het Programma is een noodoplossing die is ontstaan nadat de gevangenissen in Engeland uitpuilden terwijl er bezuinigd moest worden. Een achterstandswijk die gesloopt zou worden, is omgetoverd in een onderkomen voor criminelen. Een eigen gemeenschap. Een samenleving voor geboefte. Binnen een streng beveiligd gebied krijgen gevangenen de kans om zichzelf tijdens hun gevangenschap te ontplooien. Karla en haar collega's vermoeden dat de informatie die op de website over het Programma staat, wat al te rooskleurig is. Het zal vast geen pretje zijn om in een omgeving te verblijven waar criminelen de dienst uitmaken. Wil Johanssen soms iemand uit het Programma laten ontsnappen? Dat is vrijwel onmogelijk.

Johanssen blijkt echter een heel andere wens te hebben. Hij wil infiltreren. Hij wil het Programma in omdat hij een opdracht heeft gekregen. Johanssen moet iemand om het leven brengen. Iemand die het kennelijk heeft verdiend te sterven. Tot Karla's verbazing is het doelwit een vrouw. Een vrouw zonder naam. Johanssen heeft alleen een foto. Karla heeft de vrouw al eens eerder gezien maar ze kan zich maar niet herinneren waar of wanneer. Toch weet ze zeker dat de foto van de vrouw eens onder een vetgedrukte krantenkop prijkte.

Niet alleen is het allesbehalve eenvoudig om Johanssen tijdelijk het Programma in te krijgen, het Programma wordt ook nog eens gerund door John Quillan. Johanssen mijdt hem al jaren, heeft doodsangsten voor hem uitgestaan. Acht jaar geleden is er iets gebeurd. Johanssen was betrokken bij een smerig zaakje en reageerde anders dan de bedoeling van zijn opdrachtgever was. Als Quillan ontdekt dat Johanssen zich in het Programma bevindt, zal hij hem zonder aarzelen op gruwelijke wijze doden.

Dankzij de hackerskwaliteiten van Karla en haar team, krijgt Johanssen een nieuwe identiteit aangemeten. Hij verdwijnt in het Programma waar hij hardhandig verwelkomd wordt. Johanssen moet in leven zien te blijven, zijn doelwit opsporen en haar onopvallend ombrengen in een omgeving waar in elke hoek en kier een bloeddorstige crimineel op hem loert. Karla maakt zich grote zorgen, al zal ze nooit toegegeven dat ze bijzonder gesteld op Johanssen is geraakt. In een ander leven zou het liefde kunnen zijn geweest. Terwijl Johanssen de eerste klappen incasseert, achterhaalt Karla eindelijk de identiteit van het doelwit. De waarheid is schokkend.

De infiltrant is het opmerkelijke debuut van voormalig boekhandelaar Helen Giltrow. Deze ongewone spionagethriller biedt een intrigerende diepgang, iets wat bij dit genre nog wel eens ontbreekt. Karla is een hacker met principes en Johanssen een huurmoordenaar met een hart en een mysterieus verleden. Toch zijn beide bereid het spel hard te spelen. Ze zijn ervaren en doortastend. Juist deze mengeling van de keiharde wereld van het Programma en de persoonlijke levenssfeer van de personages, maakt deze thriller tot een groot succes. Het verhaal wordt steeds intenser. Wie is het doelwit en waarom moet ze dood? Helen Giltrow is een naam om goed te onthouden!

ISBN 9789022563069 | paperback | 412 pagina's| Boekerij | augustus 2015
Vertaald door Jolanda te Lindert
© Annemarie, 15 september 2015
Lees de reacties op het forum en/of reageer, klik HIER