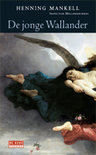 De jonge Wallander
Henning Mankell: 'Wat is er allemaal met Wallander gebeurd voor het begin van de romanserie? Dus, om een exacte datum te noemen, voor 8 januari 1990? Die vroege winterochtend dat Wallander uit bed gebeld werd, de inleiding tot Moordenaar zonder gezicht. Ik kan goed begrijpen dat men wil weten hoe het allemaal begonnen is. Een paar jaar geleden, toen ik het vijfde boek, Dwaalsporen, net af had, besefte ik dat ik in mijn hoofd verhalen aan het schrijven was die vóór het begin van de romanserie speelden. Wederom die magische datum, 8 januari 1990. Nu heb ik die verhalen gebundeld."

Toen ik het laatste boek van de acht-delige serie met inspecteur Kurt Wallander in de hoofdrol uitgelezen had, was het net of ik afscheid had genomen van een goeie vriend. Ik was me aan de eigenzinnige maar sympathieke Zweedse speurder gaan hechten. Het was een man van vlees en bloed geworden, met zijn goede en slechte kanten.
Henning Mankell zelf kwam blijkbaar ook niet los van zijn hoofdpersonage. Daarom schreef hij dit boek, een samenbundeling van vijf verhalen eigenlijk.Hierin kom je te weten hoe Kurt Wallander op zijn eenentwintigste bij de politie is terechtgekomen. Je bent getuige van zijn kennismaking met Mona, zijn latere echtgenote. Je maakt de geboorte van hun dochter Linda, en zijn echtscheiding mee.

In de loop van de vijf verhalen wordt je de hele evolutie die Wallander zowel in zijn privé-leven als in zijn professioneel leven meemaakt, uit de doeken gedaan.
Met heel veel plezier ben ik een paar van zijn kleine eigenaardigheden te weten gekomen. Een voorbeeld : voor elke temperatuur gedurende de natte en koude Zweedse winters heeft hij een aparte trui. 's Morgens staat ie op en het eerste wat hij doet is naar de buitentemperatuur kijken om te weten welke trui hij die dag zal aantrekken. Dit typeert hem. Zijn vader die een rode draad is in al de 'Wallander-boeken' speelt ook hier weer een belangrijke rol.
Uiteraard is dit boek niet alleen belangrijk om te weten hoe het leven van Wallander verliep vóór die bewuste achtste januari 1990, tevens zijn het vijf echt spannende verhalen, geschreven in de typische sobere, 'to the point' schrijfstijl zo eigen aan Henning Mankell. Ik kan dus alleen maar in superlatieven spreken over de schrijfsels van Mankell en heb weeral genoten van iedere letter in dit boek. Normaal herlees ik nooit een boek, maar voor de hele Wallander-serie wil ik een uitzondering maken. Ooit zal ik ze allemaal herlezen. Dat zegt genoeg toch?


ISBN 9052268746 Gebonden, 507 pagina's Verschenen: oktober 2004 Uitgeverij De Geus
Oorspronkelijke titel: Pyramiden Vertaler: Rint Sybesma
© Christine, februari 2006