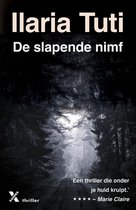 De slapende nimf
Ilaria Tuti

Er zijn soms boeken, die me nieuwsgierig maken naar bepaalde achtergronden van het verhaal. Daarbij denk ik bijvoorbeeld aan 'Tokio' van Mo Hayder, waarin de wandaden van Japan in Nanking in China een rol spelen. Ook in 'Dossier 64' van Jussi Adler-Olsen speelt een donker stukje geschiedenis een rol.

In het eerste boek van Ilaria Tuti is sprake van een medisch-psychologisch experiment, dat gebaseerd is op experimenten die werkelijk hebben plaatsgevonden. Dit nieuwe boek van deze auteur speelt zich deels af in Val Resia, het dal van de Resia in het gebied dat grenst aan Slovenië en Oostenrijk. De bevolking hier spreekt een eigen taal, het Resiaans, dat als een Sloveens dialect wordt beschouwd, hoewel de bevolking daar zelf anders over denkt, en een eigen cultuur.

Het boek begint met het eind, waarin commissaris Teresa Battaglia aan de dood denkt. Haar verstand laat haar in de steek en ze bevind zich met de moordenaar in een huis. Hoe dit af moet lopen is onduidelijk.

In het volgende stukje gaan we terug naar het begin, waarin we een kunstenaar zien, die een tekening van een slapende vrouw maakt. Dit werk zal centraal staan in het boek, want als het verhaal werkelijk begint, heeft men het werk naar een kunsthandelaar gebracht om de echtheid vast te laten stellen.

De kunstenaar is een man die sinds het einde van de Tweede Wereldoorlog niet meer gepraat heeft en alleen nog lijkt te vegeteren. Hij woont bij z'n achterneef, die het kunstwerk in een spleet heeft gevonden. In het werk wordt bij het onderzoek veel bloed gevonden, waarmee het deels getekend is. In het bloed zijn ook minuscule fragmenten van hartweefsel gevonden. DNA-onderzoek wijst naar Val Resia als herkomstplaats van het slachtoffer. De vraag is of de kunstenaar de moordenaar is, of dat er iemand anders bij is betrokken.

Het verhaal springt nogal heen en weer. Er zijn fragmenten over iemand die zich de Ticô Wariö of 'Wrede Wachter' noemt, terwijl er ook stukken zijn die zich in maart 1945 afspelen. Eerlijk gezegd is het moeilijk om het allemaal te beschrijven. Het is niet echt een pageturner in mijn ogen, maar het is wel een spannend verhaal geworden.

Er is een nieuwe hoofdcommissaris, die een soort aartsvijand van commissaris Battaglia lijkt te zijn. Wat er zich tussen de twee heeft afgespeeld is onduidelijk, maar de hoofdcommissaris lijkt er vooral op uit te zijn om Teresa Battaglia onderuit te halen.
Het team van Teresa Battaglia en Massimo Marini wordt min of meer versterkt met de blinde Blanca en haar hond Smoky, die zich bezig houden met Human Remains Detection, dus het vinden van menselijke resten. Dit wordt niet bepaald op prijs gesteld door andere mensen van de politie, die zich met hun honden bezig houden met het vinden van lijken. Teresa Battaglia heeft echter vertrouwen in de kwaliteiten van Blanca en haar hond.

ISBN 978 94 0161 164 0 | Paperback | 461 pagina's | Xander Uitgevers | januari 2020
Vertaald door Saskia Peterzon-Kotte
© Renate 26 februari 2023
Lees de reacties op het forum en/of reageer, klik HIER