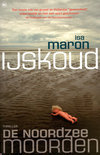 IJskoud
Deel 2 in de reeks De Noordzeemoorden
Isa Maron

Dit is het tweede boek uit de serie De Noordzeemoorden en ik moet zeggen dat ik er iets minder enthousiast over ben. In het boek staan de ontvoeringen van kinderen centraal en langzaam ontvouwt zich een plot dat tamelijk ongeloofwaardig overkomt. Hoe ongeloofwaardig merk je overigens pas aan het eind, als de redenen van de ontvoeringen aan het licht komen. Doordat je ook veel meekrijgt van de situatie van de ontvoerde kinderen, wordt het de lezer wel duidelijk dat het allemaal goed af zal lopen. Er vallen wel een paar doden in het boek, maar die kunnen in zekere zin gezien worden als bijkomende schade, die niet echt ingecalculeerd was. Er wordt ook weinig aandacht aan besteed, al zal de lezer wel begrijpen waarom deze slachtoffers gevallen zijn. Het lijkt er op dat de schrijfster kinderslavernij op de een of andere manier wat meer onder de aandacht wilde brengen en daar slaat het boek in mijn optiek toch de plank mis.

Kyra is inmiddels aan haar vervolgopleiding begonnen en raakt zijdelings met de zaak van de ontvoerde kinderen betrokken. Ze draagt er dit keer overigens niet echt veel aan bij en ze lijkt meer geconcentreerd op de zaak rond de verdwijning van haar zus Sarina. Van Maud Mertens heeft ze weer wat informatie gekregen en het spoor leidt naar Norderney, waar Kyra ook weer wat ontdekkingen doet. Ze deelt haar vondsten met Maud, die zich ook met de zaak rond de verdwijning van Sarina bezig lijkt te houden, nu er weer wat aanknopingspunten zijn.

In cursieve stukken komen we meer te weten over de mysterieuze jonge vrouw die in het vorige boek Groot Britannië is gevonden. Dacht ik in het eerste boek nog dat dit de vermiste Sarina was, nu ben ik daar niet zo zeker meer van. Hoe de zaak dan wel in elkaar zit, blijft lang onduidelijk en ook al lijk je aan het einde van het boek weer iets meer duidelijkheid te zijn, sluit ik niet uit dat het allemaal toch nog heel anders loopt.
Maud Mertens en haar team houden zich bezig met de ontvoerde kinderen en Maud lijkt een zaak, die min of meer geënt is op de zaak van het meisje van Nulde, waar ze een aantal jaren geleden mee te maken heeft gehad, niet uit haar hoofd te kunnen zetten. Ook hierbij krijg ik eigenlijk vooral het gevoel dat de schrijfster een boodschap over wil brengen. Er zit namelijk een te groot verschil tussen de zaak uit het verleden, die in haar hoofd rondspookt, en het verhaal rond de ontvoerde kinderen. Een zaak als die rond de Belg Dutroux zou in dit verband iets logischer zijn. Het is natuurlijk wel zo dat de meeste kinderen die het slachtoffer worden van geweld, seksueel of anderszins, daarmee binnen het gezin, of de familie mee te maken krijgen.

Bij het lezen had ik soms wel een beetje het gevoel een jeugdboek te lezen, maar dat komt misschien ook doordat het leven van Kyra zo'n belangrijke rol in het boek heeft. Ondanks alles kijk ik wel uit naar het volgende deel van de serie, maar vooral omdat ik heel benieuwd ben hoe het verhaal rond de onbekende vrouw en Sarina uiteindelijk in elkaar zal blijken te zitten. Verder hoop ik alleen maar dat de schrijfster voor het volgende boek weer een beter plot weet te bedenken.
ISBN 9789048822706| Paperback |320 pagina's | Uitgeverij The House of Books | december 2014

© Renate, 13 mei 2015
Lees de reacties op het forum en/of reageer, klik
HIER