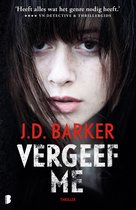 Vergeef me
J.D. Barker


Dit is het derde boek met Sam Porter en het begint met de vondst van een dode vrouw door een dakloos meisje van 14. Sam Porter is in hechtenis genomen, omdat hij gevonden is bij een dode vrouw, met kruidsporen op zijn hand en het wapen waarmee de vrouw is doodgeschoten. Z'n team wordt van de zaak afgehaald, omdat ze te zeer betrokken zijn. De zaak komt in handen van de FBI en Frank Poole houdt zich er mee bezig Clair Norton en Brian Nash kunnen niet geloven dat Sam Porter schuldig is. Op dezelfde dag worden er op verschillende plaatsen nog meer slachtoffers gevonden, die allemaal in dezelfde houding zijn gezet. Daarnaast zijn er mensen opzettelijk besmet met het SARS-virus en deze zitten in quarantaine. (Het gaat hier niet om het virus dat ons de laatste jaren in z'n greep heeft gehouden, maar om een voorganger.) Clair is een van de mensen die in het ziekenhuis in quarantaine zit.

Op een gegeven moment geeft Anson Bishop zich over aan de politie. Dit gaat met enig geweld gepaard, waarvan ook opnamen gemaakt worden. Vervolgens wordt alles heel onduidelijk. Anson Bishop beschuldigd namelijk Sam Porter van de misdrijven die hij gepleegd zou hebben. Voor hij sterft zegt Paul Upchurch tegen Clair dat Sam Porter de Moordenaar van het Vierde Aapje is. Men zit ook nog met een computerprobleem, waardoor de datum en tijdsaanduiding van bestanden constant verandert. Dat betekent ook dat camerabeelden onbruikbaar zijn als bewijs, omdat de opnametijden niet meer kloppen.
Door een toevallige gebeurtenis weten zowel Sam Porter als Anson Bishop te ontsnappen. Sam Porter gaat weer op zoek en krijgt hulp van Emory, de jonge vrouw die hij in het eerste boek uit de handen van de Moordenaar van het Vierde Aapje heeft weten te redden.

Net als bij de vorige boeken staat bij ieder hoofdstuk het nummer van de dag, de tijd en de naam van de persoon die in het hoofdstuk de hoofdrol heeft. Dat dit boek het vervolg is op 'Het vijfde meisje' blijkt al uit het feit dat het op dag 5 begint. Een groot deel van het verhaal speelt zich op een dag af en op een gegeven moment zit er nog een foutje in de tijd, Hoofdstuk 82 heeft als titel: "Poole Dag 5 22.41 uur" en hoofdstuk 83 heeft als titel "Poole Dag 5 10.53 uur, terwijl er geen sprong terug wordt gemaakt, maar de handeling gewoon doorloopt. Er staan ook weer fragmenten uit het dagboek van Anson Bishop in, waarbij het de vraag is of alles wat daar in staat wel waar is, of dat er dingen aan de fantasie van Anson Bishop (als dat tenminste werkelijk de auteur van het dagboek is) zijn ontsproten. De grote vraag is wie nu eigenlijk verantwoordelijk is voor alle moorden, als er geen sprake is van meerdere daders.
Wie is er eigenlijk te vertrouwen? Normaal gesproken is het in een thriller duidelijk, de dader heeft het gedaan. Maar hier blijft alles zeer onduidelijk. We weten misschien dat Paul Upchurch verantwoordelijk is voor een deel van de moorden in het vorige boek, maar welke rol speelt Anson Bishop werkelijk? En dan er is er ook nog de vrouw die z'n moeder zegt te zijn. Over de vader is ook nog veel onduidelijk, hoewel Anson Bishop er van overtuigd lijkt te zijn dat die dood is. En wat is de rol van Sam Porter? Een probleem daarbij is dat deze een deel van z'n geheugen kwijt lijkt te zijn, waardoor hij allerlei dingen uit z'n verleden is vergeten.

Aan het eind van het boek springen we ineens een half jaar vooruit naar de rechtszaak tegen Anson Bishop. Ook hier gaat het weer mis met de tijdsaanduiding van een aantal hoofdstukken. Hoofdstuk 129 heeft als titel: 'Porter Dag 199 15.19 uur'. Het verhaal gaat verder in hoofdstuk 130, met als titel: 'Dag 199 10.21', Dan krijgen we met hoofdstuk 131 met de titel: 'Dag 199 11.39 uur'. Het lijkt er dus op dat de tijdsaanduiding van hoofdstuk 129 niet klopt.

Het boek heeft een zeer verrassende ontknoping, waar ik niets over kan vertellen. Zonder de voorgaande boeken is dit boek moeilijk te volgen en het is handig om de boeken na elkaar te lezen. Het eerste boek zou je eventueel nog als afzonderlijk verhaal kunnen lezen en dat geldt misschien in mindere mate voor het tweede boek, maar in dit boek vallen alle losse stukken pas echt op hun plaats.

ISBN 978 90 225 8963 2 | Paperback | 507 pagina's | Boekerij | april 2020
vertaald door Ralph van der Aa
© Renate 4 december 2022
Lees de reacties op het forum en/of reageer, klik HIER