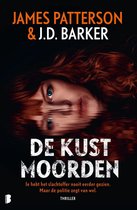 De kustmoorden
James Patterson & J.D. Barker

Flaptekst: Al sinds hun traumatische kindertijd vertrouwen Michael en Megan Fitzgerald alleen elkaar. Ze moeten wel, na alles wat hun ouders hun hebben aangedaan. Als Michael thuiskomt en het lijk van een onbekende vrouw in zijn badkuip vindt, belt hij direct de politie. Maar als die even later op de stoep staat, hebben ze bewijs dat Michael het slachtoffer kende. Waarom kan Michael zich daar niets van herinneren?
Het mag duidelijk zijn dat iemand een gruwelijk spel met hem speelt. Terwijl Michael wordt afgevoerd naar het politiebureau, zet Megan alles op alles om haar broer vrij te krijgen. Als het dodental oploopt en de moorden steeds meer herinneringen aan hun kindertijd oproepen, begint zelfs zij te twijfelen. Hoe goed kent ze haar broer echt?

1* Ja, u leest het goed, één ster.

Waar zijn de auteurs goed in? Kort door de bocht : het creëren van een unheimische unwelt, om het maar eens in goed Nederlands te zeggen. Een duistere omgeving, waarop je als lezer geen grip hebt. Ook taalkundig is het geen hoogvlieger en als je voor de tigste keer hebt gelezen dat 'het hart als een razende tekeer gaat', smacht je naar een hart dat niet meer te keer gaat.

Je kunt aan alles merken dat hier geen snotneuzen aan de gang zijn geweest. Toch kon de thriller mij maar matig bekoren, nou ja, ik stop met beleefd zijn, helemaal niet bekoren dus. De overdrive staat constant op het maximale toerental, alles maakt een overspannen indruk en is er op gericht een bepaald effect te creëren. De psychologie is uit Wikipedia gehaald of bij koning Psycholoog annex Onbenul. Ja, weer die dissociatieve identiteitscrisis. Als lezer krijg je de indruk, dat je dit boek al tientallen malen eerder gelezen hebt. Maar dan in een andere volgorde.

Dit soort pulp kan best aardig zijn, per slot van rekening kan niet elk boek in dit genre als goed of uitmuntend betiteld worden maar dit is echt onder de maat. Maar ik heb nu twee dingen op een rij. Op de eerste plaats de constatering dat het boek achterstevoren geschreven is èn dat beide auteurs te veel gesnoept hebben van bepaalde exoten waardoor de spanning is weggelopen voordat ze is opgebouwd.


We kunnen dit boek ook onder het magisch realisme scharen. Meerdere persoonlijkheden zijn voor een auteur natuurlijk uiterst dankbare handvaten om verschillende verhaallijnen te introduceren. Maar zoals alles in dit boek is het slordig en verwarrend neergezet.
Is dit een poging om het magisch realisme te herintroduceren in het thrillergenre of willen de schrijvers wat extra bladzijden scoren?

Maar er zitten ook best wel leuke dingen in. Zoals De handleiding om een hitsige man in een vliegtuig twintig minuten op te sluiten op de toilet...
Én de compositie van het verhaal, de opbouw zit meer dan uitstekend in elkaar, derhalve toch nog één ster.

ISBN 9789022593073 | Paperback | 432 pagina's | Uitgeverij Boekerij | maart 2021
Vertaald door Ralph van der Aa
© Jac Claasen, 6 mei 2021
Lees de reacties op het forum en/of reageer, klik HIER