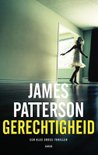 Gerechtigheid
James Patterson

Het is rechercheur Alex Cross vijfendertig jaar lang gelukt zijn geboortestad Starksville in North Carolina te vermijden. Hij koestert vooral verdrietige herinneringen aan het stadje waar hij opgroeide. Aan zijn jeugd denkt hij zo min mogelijk terug. Het was een zware tijd voor Alex en zijn drie broers. Ze maakten dingen mee die kinderen niet mee zouden moeten maken. Toen hun ouders kort na elkaar stierven, kwam er een einde aan het zware leven in Starksville. Hun oma Regina nam hen in huis en voedde hen liefdevol op. Oma Regina, die door iedereen Nana Mama wordt genoemd, is inmiddels al dik in de negentig maar maakt nog altijd deel van Alex' gezin uit.

Toch is Alex nu met zijn gezin onderweg naar Starksville. Zijn familie heeft hem nodig. Alex weet niet of hij hen kan helpen. Hij weet ook niet of hij dat wel wil. Zijn neef Stefan Tate wordt verdacht van de moord op de dertienjarige Rashawn Turnbull. Hij beweert dat hij onschuldig is en zijn familie gelooft hem. Stefan was gymleraar en Rashawn was zijn protegé. Hij was dol op de jongen. Liegt Stefan zijn familie keihard voor of heeft hij werkelijk niks met de moord op Rashawn te maken? Alex heeft feiten nodig.

Eenmaal in Starksville ontdekt Alex dat het politierapport er niet om liegt. Stefan hield er een dubbelleven op na. De gymleraar dronk en gebruikte drugs. Daarnaast was hij ook een drugsdealer en na zijn arrestatie dook er een leerlinge op die beweerde door Stefan verkracht te zijn. Is Alex' bloedeigen neef een monster? De foto's van het slachtoffer zijn ronduit schokkend. De jongen is op beestachtige wijze afgeslacht. Bewijsmateriaal is er in overvloed. Het wijst rechtstreeks naar Stefan. Op het moment dat de rechtszaak tegen Stefan van start gaat, vreest Alex dat de waarheid zijn familie zal schokken. Toch zijn er tegenstrijdigheden. Alex en zijn vrouw Bree beseffen dat de volledige waarheid nog niet is onthuld.

Starksville is geen prettige plek om te wonen. Het is een plek waar bewoners regelmatig de andere kant op moeten kijken. Waar creatief met de wet wordt omgesprongen. Een machtige zakenman maakt er de dienst uit. Heeft hij ook de politie in zijn zak? Alex beseft dat hij niet elke rechtsambtenaar in het stadje kan vertrouwen. Toch zal de onderste steen boven moeten komen. Goedschiks of kwaadschiks. Het onderzoek valt Alex zwaar. Jeugdherinneringen komen tegen wil en dank naar boven. Alex ontdekt tot zijn grote schrik dat hij bepaalde herinneringen verdrongen heeft. De waarheid omtrent de dood van zijn ouders is anders dan de waarheid die hij zichzelf heeft voorgehouden. Starksville herbergt een duister geheim. Een geheim dat Alex zal moeten ontrafelen om van de spookbeelden uit zijn jeugd verlost te worden.

De Alex Cross-reeks behoort al jaren tot mijn favoriete boekenreeksen. Gerechtigheid vormt een uitstekende aanvulling op deze ijzersterke reeks. Nog altijd slaagt auteur James Patterson erin het personage Alex Cross extra diepgang te geven. In Gerechtigheid komt zijn jeugd aan bod. Een periode uit zijn leven die hij uit zijn herinneringen verbannen heeft. Toch heeft zijn jeugd hem gevormd. Het heeft hem gemaakt tot de succesvolle man die hij nu is. Wat is er precies gebeurd in de jaren dat hij in Starksville woonde? Onder welke omstandigheden zijn Alex' ouders overleden? Wie goed oplet stuit op een onopvallende zin die belooft dat het verhaal nog een bijzondere verrassing voor Alex in petto heeft. Of het een aangename of onaangename verrassing is, verklap ik niet.

Wat mij betreft mag James Patterson stoppen met het schrijven van standalone boeken en zich volledig toeleggen op het vervaardigen van verhalen over Alex Cross of Lindsay Boxer en haar vriendinnen (The Women's Murder Club). Patterson is een kei in het schrijven van reeksen. Gerechtigheid bestaat uit ruim vierhonderd bladzijden maar dat heeft me er niet van weerhouden het in één ruk uit te lezen. Een ijzingwekkende spanning, familieperikelen, het dagelijkse gezinsleven en een aangrijpend levensverhaal vormen samen een onvervalste James Patterson-thriller. Een aanrader.

ISBN 9789023494690 | paperback | 412 pagina's| Cargo | februari 2015
Vertaald door Waldemar Noë
© Annemarie, 8 maart 2016
Lees de reacties op het forum en/of reageer, klik HIER