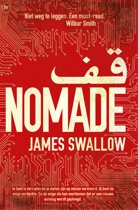 Nomade
James Swallow

Marc Dane werkt voor de Britse geheime dienst MI6, hij verzorgt bij voorkeur de technologie die nodig is bij veldoperaties. Bij een actie in de haven van Duinkerken komen al zijn collega's, die samen met Marc de groep Nomade vormen, om het leven. Hij is de enige die - eigenlijk bij toeval - weet te ontkomen. De leiding verdenkt hem er van de verrader te zijn, van wie ze al een tijdje het vermoeden hadden dat die er is binnen de dienst. Marc hoorde pas over die mol toen zijn vriendin die ook bij de actie betrokken was, in zijn armen stierf.

Natuurlijk weet Marc dat hij niet de verrader is, maar nu moet hij het bewijzen. Daarvoor moet hij uit handen van de M16 blijven, en op zoek naar de echte dader(s). Hij is alleen, want wie kan hij nu nog vertrouwen?
De actie in de haven was de zoektocht naar kernkoppen die eerder gestolen waren. Waarschijnlijk was daar Combine bij betrokken, een organisatie die zich bezig houdt met wapens en het liefst aan beide partijen levert. En voor wie waren de wapens? Gezien het feit dat er onlangs een grote terroristische aanval is geweest in Barcelona, vreest men het ergste. De lezer weet hoe dat zat, want in een andere verhaallijn volgen we Al Sayf, een jihadistische organisatie die kinderen als menselijke bommen inzet.

Als Marc de terroristen op het spoor komt, blijkt er nog een vierde partij te zijn: Rubicon. Dat is een rijke en dus technologisch ook goed voorziene organisatie die het kwaad bestrijdt op eigen houtje, en liefst zonder bemoeienis van een overheid. Marc is min of meer gedwongen om samen te werken met Lucy, een ex-militair, lid van de Rubicongroep, die qua verleden veel gemeen lijkt te hebben met Marc.

Marc moet zien te schakelen tussen deze partijen, die voor- en tegenstanders, of zelfs allebei zijn. Een held overleeft iedere gevaarlijke situatie, en Marc is ook nog zo'n held die allerlei verwondingen oploopt, maar daar nauwelijks last van lijkt te hebben. Een ware held dus.
Hoewel het verhaal qua achtergrond verwijst naar de hedendaagse politieke situatie, kan de lezer gerust zijn: het is (gelukkig) allemaal niet echt.

Wie is de echte verrader? En kunnen Lucy en Marc verhinderen dat Al Sayf de Grote Aanslag pleegt?
Het blijft tot op het laatst spannend!

De schrijver weet hoe hij spanning kan oproepen door filmisch te vertellen. De cliffhangers en korte hoofdstukken zorgen dat je blijft lezen, en omdat je meerdere verhaallijnen hebt kost dit boek je dus je nachtrust.

James Swallow (Londen, 1970) is scenarioschrijver van Startrek, is BAFTA-genomineerde (British Academy Film Awards) en een bestsellerauteur. Behalve thrillers schreef hij korte fictie, talloze audiodrama's en videogames.
Dit is het eerste Marc Daneboek in het Nederlands.

ISBN 9789044355420 | paperback | 512 pagina's | Uitgeverij House of the Books | april 2019
Vertaald uit het Engels door Caspar Wijers
© Marjo, 1 augustus 2019

Lees de reacties op het forum en/of reageer, klik HIER