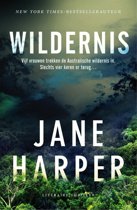 Wildernis
Jane Harper

Alice Russell wordt vermist, en daar maken federaal agent Aaron Falk en zijn assistent Carmen Cooper zich drukker om dan over het feit dat Alice op pad was met vier vrouwen die eveneens vermist zijn. Alice is een klokkenluider, en ze zou hen de laatste benodigde papieren bezorgen waarmee een aanklacht kon worden gedaan tegen de firma waar zij werkte.

De andere vrouwen werkten daar ook. Ze hadden een bedrijfsuitje, bedoeld om de sociale contacten onderling te versterken. In twee gescheiden teams, vijf vrouwen en vijf mannen, werden op donderdagmiddag de collega's de wildernis ingestuurd voor een survivaltocht. Ze moeten zelf de weg terug zien te vinden, met behulp van een kaart en een kompas maar zonder telefoon. Als ze alle aanwijzingen zouden volgen zouden ze zondagmiddag op de afgesproken plek aan moeten komen.

Vier van de vrouwen komen veel te laat en strompelend het bos uit, en zij hebben geen idee waar de vijfde vrouw kan zijn. Het groepje bestond uit Alice Russell, Jill Bailey, de zus van de directeur – de directeur zelf zat bij de mannengroep - de zussen Breanna en Bethany McKenzie, en Lauren Shaw, die geen van allen zonder zonden zijn.

Als een zoektocht gestart wordt en Falk er bij betrokken raakt, beseft hij dat het Giralanggebergte in Australië waar de survival plaatsvindt, precies de plek is waar Martin Kovac zijn moorden bijna twintig jaar eerder pleegde. Kovac is dood, weet Falk, maar nu hoort hij dat er een zoon is, die in het bos woont.

De teruggekeerde vrouwen worden natuurlijk ondervraagd. Wat zij vertellen over de gebeurtenissen van de afgelopen dagen lezen we in korte of langere verslagen beginnend vanaf de donderdagmiddag tot hun verhaal samenvalt met de zoektocht en de uiteindelijke ontknoping. Een hechte of gezellige groep blijkt het niet geweest te zijn. En als het dan fout gaat, gaat het ook goed fout!

Overigens bleek er toch een telefoon te zijn: Falk heeft een onduidelijk bericht gehad op zijn telefoon, 'haar kwaad kan doen', was het enige dat hij kon verstaan. Terugbellen lukte niet.

Aaron Falk is een bekende uit het eerste boek van Jane Harper, maar dit verhaal is geen vervolg op 'De Droogte'. Beiden spelen zich af in Australië en beide verhalen hebben eenzelfde beklemmende sfeer, al valt in dit boek wel heel veel regen…

Wat is er precies gebeurd in de bush? Is er verband met het onderzoek naar de toestanden op het kantoor? En hoe zit dat dan? Ook rijst de hoop dat ze het laatste nooit gevonden slachtoffer van Kovac nog zullen vinden. Door het geheel in twee lijnen mede te delen aan de lezer wordt een enorme spanning opgebouwd.

Jane Harper, geboren in Manchester sinds haar achtste woonachtig in Australië, is absoluut geen eendagsvlieg, ook deze tweede thriller is superspannend tot op het laatst.

ISBN 9789400509740| Paperback |368 pagina's | Uitgeverij A. W. Bruna | maart 2018
Vertaald uit het Engels door Catalien en Willem van Paassen
© Marjo, 22 mei 2018
Lees de reacties op het forum en/of reageer, klik HIER