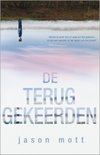 De Teruggekeerden
Jason Mott

De inwoners van het stadje Arcadia in de staat Arkansas zijn verbijsterd. Om met dominee Peters uit het boek te spreken: 'Het zijn interessante tijden die de mensen meemaken'. Doden keren wereldwijd terug uit de dood en er is een federaal bureau opgezet om elke Teruggekeerde terug naar huis te brengen. Maar daar staat niet iedereen om te springen. Lucille Hargrave wel; zij is dolblij wanneer ze vijftig jaar na zijn tragische dood haar 8-jarig zoontje Jacob weer in de armen kan sluiten. Haar man is sceptischer: hij wil 'het' niet in huis hebben; dit kan zijn zoon niet zijn.
De angst en onrust onder de bevolking breidt zich steeds sneller uit naarmate er meer Teruggekeerden komen.

Geloof, hoop en liefde; zo is het centrale thema van het boek te typeren, naast andere universele topics als vergeving en verzoening. Jason Mott heeft een meesterlijk debuut geschreven over een onderwerp waar iedereen die een geliefde heeft verloren, wel eens van droomt: hem of haar nog een keer in je armen te kunnen sluiten, mee te kunnen praten, in het reine te komen met onafgedane zaken. Dat zoiets niet zo eenvoudig is als het wel lijkt, beschrijft 'De Teruggekeerden'. Mott houdt de lezer een onbarmhartige spiegel voor waaruit blijkt dat het laagje beschaving dat ons bedekt soms maar heel dun is. Veel van de vragen die worden gesteld worden niet beantwoord: waar komen de Teruggekeerden vandaan, waarom zijn ze terug, wat is er met ze gebeurd? Maar daar gaat het hier ook niet om; van belang is de impact op de 'gewone' mensen en hoe zij reageren op de onvoltooid verleden tijd.

Ondanks de heftige thema's heeft de auteur een prachtig, toegankelijk en vlot leesbaar boek geschreven, dat leest als een spannende roman. Sfeertekening, karakters, plot; het past allemaal naadloos in elkaar.
Jason Mott is van huis uit dichter en hij studeerde poëzie en literatuur een de University of North Carolina. Zijn gedichten hebben hem onder andere een nominatie voor de prestigieuze Pushcart Prize Award opgeleverd. Met dit debuut bewijst hij ook op het gebied van proza zijn mannetje te staan. Het boek is inmiddels verwerkt tot een televisieserie met als titel 'Resurrection'.

ISBN 9789034753212 Paperback 384 pagina's Harlequin Holland 27 augustus 2013
Vertaald door Karin Jonkers
Joanazinha, 27 augustus 2013
Lees de reacties op het forum en/of reageer, klik HIER