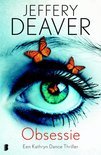 Obsessie
Jeffery Deaver

Kinesisch expert Kathryn Dance is niet gewend fouten te maken. Ze is ervan overtuigd dat Serrano, de hovenier van drugsbaas Guzman, niet weet dat zijn opdrachtgever een crimineel is. Een informant heeft het California Bureau of Investigation op Serrano gewezen maar er is geen enkele reden om de tuinman ergens van te verdenken. Tijdens de ondervraging van Serrano heeft Kathryn de lichaamstaal van Serrano nauwkeurig bestudeerd en het is overduidelijk dat de man goudeerlijk is. Serrano gaat vrijuit.

Niet veel later blijkt dat Kathryn een grote fout heeft gemaakt. Serrano's werk als hovenier blijkt een dekmantel voor zijn activiteiten als huurmoordenaar te zijn. Kathryn heeft een moordenaar laten lopen, een onvergeeflijke fout. Serrano blijkt een bijzonder goede leugenaar te zijn. Een natuurtalent. Kathryn wordt zonder pardon gedegradeerd naar Civiele Zaken waar het werk allesbehalve een uitdaging vormt. Ze mag beginnen met het onderzoeken van een brand in uitgaanscentrum Solitude Creek. Zijn er soms regels overtreden?

De brand in Solitude Creek blijkt helemaal geen brand te zijn geweest. De bezoekers dachten dat er brand was maar in werkelijkheid ging het om een brandend olievat buiten het pand. Er ontstond echter paniek toen de bezoekers van een concert een brandlucht roken en massaal naar de uitgang stroomden. Deze bleek geblokkeerd te zijn door een vrachtwagen van een nabijgelegen bedrijf. In het gedrang dat ontstond verloren de gasten de controle over zichzelf met als gevolg drie doden en talrijke gewonden. Iemand heeft met opzet paniek gezaaid en de vrachtwagen voor de deur geparkeerd. De dader heeft meerdere malen gedood zonder zelf ook maar iemand aan te raken. Kathryns saaie civiele zaak is ineens allesbehalve slaapwekkend geworden. Wanneer ze de camerabeelden van het gebeuren ziet, is ze geschokt.

Terwijl Kathryns voormalige collega's met man en macht naar Serrano op zoek zijn, duikt Kathryn in haar nieuwe zaak. Als eerste wordt de bestuurder van de vrachtwagen ondervraagd. Heeft hij de vrachtwagen met opzet voor de deur geparkeerd of is hij soms vergeten het grote gevaarte op de handrem te zetten? Kathryn ontdekt dat het niet altijd veilig is om, ongewapend, voor Civiele Zaken te werken. Een woedende menigte heeft de vrachtwagenchauffeur voor het gemak alvast als schuldige aangewezen en valt hem aan. Ook Kathryn is niet langer veilig en weet samen met de chauffeur op het nippertje aan het tumult te ontsnappen. De chauffeur, die onschuldig blijkt, houdt er een gebroken kaak aan over.

Kathryn hoopt met heel haar hart dat het om een eenmalige actie gaat maar helaas is dat niet het geval. De dader houdt er kennelijk van om uitgangen af te sluiten en vervolgens paniek te zaaien. Het is moeilijk te bepalen waar de dader toe gaat slaan want er zijn tal van openbare gelegenheden die veel bezoekers kunnen herbergen. Valt er een patroon te ontdekken? Eén ding is zeker: de dader moet zwaar gestoord zijn.

Obsessie is een nieuw deel in de Kathryn Dance-reeks. Het boek kan ook als standalone gelezen worden maar als je nog nooit iets over Kathryn hebt gelezen, zal je haar in dit boek niet heel goed leren kennen. Kathryn is een weduwe met twee kinderen. Sinds een jaar heeft ze een nieuwe vriend maar ze weet nog niet of ze verder met hem wil. Er speelt ook iets tussen haar en haar collega Michael O'Neill. Kathryn beseft dat ze gevoelens voor de gescheiden Michael koestert maar het lijkt erop dat hij op het punt staat zich met zijn ex-vrouw te verzoenen.

Het verhaal in Obsessie is omvangrijk. Ik vond het verhaal over de paniekzaaier intrigerend en zelfs griezelig maar de andere verhaallijnen en politiezaken wisten me niet erg te boeien waardoor ik steeds delen vergat wat verderop in het verhaal voor verwarring zorgde. Wat mij betreft had het verhaal zich volledig rondom de paniekzaaier mogen concentreren. Ik heb nu drie boeken van Jeffery Deaver gelezen en ik ben tot de conclusie gekomen dat hij niet tot mijn favoriete schrijvers behoort. Meneer Deaver zal daar niet wakker van liggen want zijn vele thrillers vallen regelmatig in de prijzen.

ISBN 9789022573389 | paperback | 413 pagina's| Boekerij | juni 2015
Vertaald door Jan Mellema
© Annemarie, 29 juni 2015
Lees de reacties op het forum en/of reageer, klik HIER