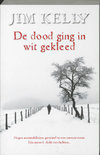 De dood ging in wit gekleed
Jim Kelly

Petje af voor de twee inspecteurs die een zeer ingewikkelde zaak toegewezen krijgen. De plot is erg ingewikkeld.

Het kernverhaal is dat van Sarah Baker-Sibley, die in onmin leeft met haar ex, die haar de zeggenschap over hun dochter wil ontnemen. Haar man woont op een Grieks eiland, gelukkig ver weg, maar de dochter is intussen een eigenzinnige puber geworden die zelf ook wat in de pap te brokkelen wil hebben. Op weg om haar dochter van school te halen, strandt Sarah in een sneeuwstorm, op een weg waar ze geen bereik heeft. Ze raakt in paniek als blijkt dat er een moord gepleegd is en dat ze daar nog wel even vast zal zitten. Als een van de inspecteurs haar dochter wel wil waarschuwen, accepteert ze dat, maar ze blijft onrustig.
De weg waar ze vaststaat is een afgelegen kustweggetje (kaart voorin) waar tenslotte negen auto's komen te staan. Behalve dat er overduidelijk een moord is gepleegd, is er een automobilist die een hartaanval krijgt, vlucht een bestuurder weg, en weer een andere bestuurder is onder invloed van marihuana.
Zo is er behalve het kernverhaal sprake van smokkel, van wraak, van diefstal, afpersing en nog meer. En als de getuigen dan allemaal belangrijke dingen verzwijgen of de boel aan elkaar liegen, dan maak je borst maar nat!
De inspecteurs zijn Shaw en Valentine, niet bepaald beste vrienden. Ooit werkte Valentine samen met de vader van zijn huidige partner, en twaalf jaar geleden hebben zij een zaak verknald. Dat is nog steeds een last voor Valentine. Niet meer voor Jack Shaw, die is overleden. Maar nu is zijn zoon er op gebrand zijn naam te zuiveren. Dat probeert hij ook nog even te doen.
Wie houdt van puzzelen houdt, samen met inspecteurs die er ook een eigen leven op na houden, die zit goed. In het boek wordt de zaak een forensische puzzel genoemd. Dat klopt, aan de plot mankeert niets, behalve dat het ingewikkeld is.
Maar ik heb me helaas herhaaldelijk geërgerd aan de taal, aan het overdreven gebruik van bijvoeglijke naamwoorden, aan kleine foutjes in de tekst. Ik heb er dus niet zo van genoten als gekund had.
Voorbeelden:
'De Alfa-Romeo trok een lippenstiftrode streep door een sepiakleurig landschap.'
'De stank van gebakken vet lag als een dekbed over de formicatafels'
'zijn gezicht werd nog altijd gedomineerd door een herhaaldelijk gebroken neus'
(wat een vreemde opmerking!!)
'ze was klein, stevig gebouwd, maar je zou haar nooit tenger noemen'
(waar slaat het woord 'maar' op?)
Of een inspecteur die eerst zucht dat hij na drie uur slaap nog moe is, maar een paar minuten later zich puik voelt??
Nog eentje dan, wat zijn de twee het eens! In één alinea.
'...dacht Shaw, hij had de pest aan winstbejag.
'U bent vroeg', zei ze. Valentine had een hekel aan punctuele mensen.
Een thriller hoeft helemaal niet geschreven te worden in een mooie taal, dus als je dat niet beheerst, probeer het dan ook niet!
ISBN 978 90 261 2607 9 Paperback 304 pagina's | Uitgeverij De Fontein | mei 2009
'Death wore white' Vertaald door Pieter Janssens
© Marjo, juli 2009
Lees de reacties op het forum, klik HIER