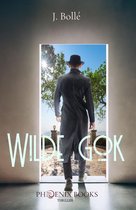 Wilde Gok
Johnny Bollé

Léon bespiedt een jonge vrouw met de opzet haar te doden.
'Iemand het leven ontnemen is niet moeilijk. Het wordt steeds makkelijker.'
Het is dan juni 1970. Rond dezelfde tijd ontvoert hij een jonge vrouw,
'Eindelijk is ze van mij, mijn hart loopt over van oprechte liefde.'

Later leren we dezelfde man kennen als een liefhebbende echtgenoot. Het is dan bijna een jaar later, en met Fleur woont hij in een klein dorp in Zuid-Frankrijk. Ze weet niets meer van haar verleden, maar ze is gelukkig met Léon en hun zwarte kat. Tot een onbekende vrouw haar een briefje toestopt.
Wie is die onbekende? En wat staat er in dat briefje?

In de tussentijd is er nog een andere verhaallijn, die van Beau en haar moeder, Céleste De Châtillon. Beau is de lieveling van haar moeder maar er is nog een andere dochter, Manon, die met haar echtgenoot Destin bij haar moeder inwoont. Diens huis bij Menton is groot genoeg. De relatie tussen Manon en haar moeder, of die met haar zus is niet zo best. Manon is jaloers en aast op het kapitaal van haar moeder.
Na het overlijden van haar echtgenoot bleef Céleste namelijk achter als een rijke vrouw. Helaas zit ze zonder dat haar dochters dat weten zwaar in de schulden, hetgeen haar wanhopig maakt waardoor ze het slachtoffer wordt van criminelen. Vandaar de titel Wilde Gok.

Van een van haar plannen is Beau min of meer de dupe. Beau is haar leven lang gepusht om zangeres te worden, een beroemde natuurlijk, die bakken met geld binnenhaalt. Tot haar teleurstelling kan Beau niet de carrière als sopraan volgen, waar ze van droomde. Volgens de man die haar zal begeleiden kan ze beter een andere soort liedjes zingen. En ze wordt inderdaad beroemd onder de naam Princesse Masquée. In die hoedanigheid doet ze zelfs mee aan een songfestival!

De verhaallijnen passen in elkaar. Het steeds wisselen van tijd en personages maakt het extra lastig voor de lezer om deze puzzel te ontrafelen.
Johnny Bollé maakt het natuurlijk je niet makkelijk: mensen zijn niet altijd wie ze lijken te zijn. Zo word je nogal eens op het verkeerde been gezet. Maar als het verhaal goed is verhoogt dat alleen maar de spanning. En dit verhaal is dus goed! De plot is onvoorspelbaar, maar alles blijkt te kloppen…

'Opnieuw zeg ik dat het me spijt en snikkend laat ik het pistool zakken. Haar verstomde blik is niet meer op mij gericht, met onnatuurlijk grote pupillen kijkt ze Fabian aan. Verbaasd draai ik mijn hoofd naar hem toe. Zijn zachte blik is veranderd in die van een hardvochtige man. De verroeste bijl die daarnet nog in de tronk zat, ligt nu in zijn handen. Het pistool valt, ik schreeuw het uit. De gil van Donatella gaat door merg en been. Alles gaat in slow motion. Ik knijp mijn ogen dicht als ik het zoevende geluid van de bijl hoor die de lucht doorklieft.
De geur van bloed vult mijn neusgaten.
Het wordt zwart voor mijn ogen. Ik val op de grond.'

Een fijne thriller, in een vlotte meeslepende schrijfstijl, die zich afspeelt in het chique wereldje aan de Riviera, dat zoals wel bekend ook een duistere kant heeft. Beide spelen een rol.

De Antwerpse auteur Johny Bollé schrijft korte verhalen en thrillers. Wilde gok is zijn vierde thriller.

ISBN 9789083140469| paperback | 300 pagina's | Uitgeverij Phoenix | augustus 2021
© Marjo, 5 oktober 2021
Lees de reacties op het forum en/of reageer, klik HIER