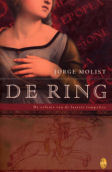 De ring
George Molist

Het zal niet vaak gebeuren dat een jonge vrouw op haar zevenentwintigste verjaardag twee bijzondere ringen krijgt. Van haar vriend Mike krijgt Cristina, een veelbelovende advocate in New York, tijdens de lunch een prachtige verlovingsring met een diamant. 's Avonds, tijdens haar verjaardagsfeest, wordt er door een onbekende een oude ring met een robijn afgegeven, die afkomstig is uit Barcelona. Dat is de stad waar Cristina de eerste dertien jaar van haar leven doorgebracht heeft, maar waarnaar ze nooit meer terug gekeerd is toen het gezin eenmaal in Amerika woonde.
Ze heeft vaag het gevoel de ring te "herkennen" en uiteindelijk vertellen haar ouders haar het achterliggende verhaal: de ring behoorde aan Enric, de geliefde peetoom van Cristina, die enkele maanden na hun vertrek uit Spanje zelfmoord pleegde. Om haar te beschermen hebben haar ouders altijd verteld dat hij omkwam bij een verkeersongeluk. "Toevallig" ontdekt Mike op een schilderij dat Cristina ooit cadeau kreeg van diezelfde Enric en dat nu bij haar ouders aan de muur hangt, dat de afgebeelde maagd Maria dezelfde ring draagt.
Enige tijd na haar verjaardag ontvangt ze een brief van een Spaanse notaris waarin ze wordt uitgenodigd aanwezig te zijn bij de voorlezing van het tweede testament van don Enric Bonaplata op zaterdag 1 juni 2002 in Barcelona. Ondanks de felle tegenstand van haar moeder neigt ze er toch naar te gaan en als kort daarna haar appartement doorzocht wordt en ze later begrijpt dat men op zoek was naar het oude paneeltje, staat haar besluit helemaal vast. Wat de reis voor haar extra aantrekkelijk maakt is het feit dat ze in Barcelona ook Oriol, de zoon van Enric én haar grote jeugdliefde, weer zal ontmoeten.

Voeg aan deze ingrediënten nog het volgende toe: een quasi oud verhaal over de geschiedenis van de Tempeliers, een schat die opgespoord moet worden, een slinkse antiquair, een achtervolger, familieverhalen, vier moorden, psychometrie én een flinke dosis romantiek. Al deze elementen samen én, toegegeven, een lekkere vlotte schrijfstijl zorgen dan voor een boek zoals er de laatste jaren nogal veel verschenen zijn. Dat wil niet zeggen dat het verhaal van de speurtocht naar de schat van de Tempeliers niet prettig, aangenaam of spannend is om te lezen, maar écht bijzonder is het niet. De vermenging van de moderne tijd met het altijd wat mysterieuze verleden is op dit moment hét recept voor een goedlopend en goedverkopend boek. Dertien in een dozijn wordt langzamerhand veertien in een dozijn en of dat past? Wordt het niet eens tijd dat er een nieuw stramien gevonden wordt voor het genre van de historische thrillers?

ISBN 978 90 417 61903 Paperback 350 pagina's Uitgeverij Sirene Zilverpockets 2007
© Janna, april 2007