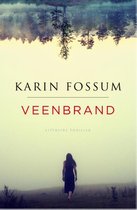 Veenbrand
Karin Fossum

In een oude caravan op het terrein van een boer worden twee mensen vermoord. Een jonge vrouw en haar nog geen vijfjarige zoontje worden met messteken om het leven gebracht. Het motief is niet duidelijk: er is geen seksueel of ander geweld gebruikt buiten de messteken, en ze zijn niet beroofd.

De boer die hen vond is geschokt, evenals de Poolse medewerkers die hem in het seizoen bijstaan. Inspecteur Konrad Sejer besluit al snel dat deze mensen geen verdachten zijn. Maar verder vindt hij behalve een voetafdruk geen sporen. Heeft die rode auto die in de omgeving gezien is er iets mee te maken? En waarom houdt de moeder-oma dingen achter over haar dochter?

Een andere verhaallijn gaat over de moeder en haar zoontje toen ze nog leefden. Zij is thuiszorghulp, en omdat er in hun verhaal geen man een rol speelt, kan ze maar moeilijk rondkomen. Maar veel erger vindt ze dat ze haar zoon iedere dag naar de opvang moet brengen. Hij vindt dat net zo vreselijk. En dan is er nog een gebroken gezin: een andere moeder en haar eenentwintigjarige zoon. Deze zoon heeft een persoonlijkheidsstoornis, maar dom is hij absoluut niet. Net als in zijn favoriete televisieprogramma waarin gezocht wordt naar verdwenen of onbekende familieleden, wil hij ook op zoek naar zijn vader. Zijn moeder probeert hem te ontmoedigen, maar slaagt daar nauwelijks in.

Deze drie verhaallijnen komen langzaam bij elkaar. De lezer weet meer dan de speurder, maar de afloop is toch verrassend. Karin Fossum zet overtuigende karakters neer, waardoor je zelfs medelijden voelt met de dader. Het is zijn schuld, maar eigenlijk ook niet.

De achterliggende thematiek is het belang van waarheid. Geheimen, dingen verzwijgen, kan leiden tot ongewenste gebeurtenissen. Een verzwegen verleden is als een veenbrand: het smeult, en smeult, tot het tot ontbranding komt. Een fraaie literaire thriller die je in één adem uitleest.

Karin Fossum, geboren als Karin Mathisen (Sandefjord, 1954) is auteur van misdaadthrillers. Haar debuut 'Eva's oog' krijgt de prestigieuze Riverton-Prijs en de Glazen Sleutel voor de beste Scandinavische misdaadroman. In 2015 ontvangt Fossum voor de tweede keer de Riverton-prijs, nu voor Veenbrand.

ISBN 9789460682858 | paperback |279 pagina's | Uitgeverij Marmer| april 2016
Vertaald uit het Noors door Lucy van Pijttersen
© Marjo, 30 augustus 2016
Lees de reacties op het forum en/of reageer, klik HIER