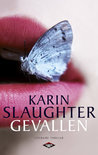 Gevallen
Karin Slaughter

Faith Mitchell, agent bij het Georgia Bureau of Investigations, is onderweg naar huis en maakt zich zorgen. Haar moeder, Evelyn, neemt de telefoon niet op. Dat is verontrustend want Evelyn is altijd bereikbaar. En op het moment past ze op Emma, de vier maanden oude dochter van Faith. Wanneer Faith bij haar moeders huis arriveert, vangt ze meteen signalen van onraad op. Er klinkt vreemde muziek uit het huis en door het raam van het schuurtje ziet ze dat haar dochter Emma zich daar moederziel alleen bevindt. De deur van het schuurtje is op slot en Faith kan niet bij haar baby komen. Paniekgevoelens spelen op. Faith probeert het hoofd koel te houden, wat extra lastig is omdat ze suikerziekte heeft en nodig iets moet eten. In het huis van haar moeder treft ze een dode man aan. In een andere kamer wordt een man onder schot gehouden. Faith schakelt de gewapende man uit om de gijzelaar te redden. Deze laatste grijpt dan het wapen van de gijzelnemer en gaat ervandoor. Hij dreigt op twee spelende kinderen te schieten waarop Faith ook hem neerschiet. Drie dode mannen en geen spoor van haar moeder. Voordat Evelyn Mitchell met pensioen ging stond ze aan het hoofd van een narcoticabrigade. Binnen haar team bleek van alles mis te zijn. De huidige politiepartner van Faith, Will Trent, deed destijds onderzoek naar de corrupte agenten. Het team van Evelyn werd opgepakt en veroordeeld maar Evelyn zelf bleef buiten schot. Zal Evelyn ook corrupt zijn geweest en heeft haar verleden haar nu ingehaald? De zoektocht naar de waarheid brengt iedereen in groot gevaar. Gaat het hier om geld of is er een persoonlijk motief?

Ondertussen stort Will Trent zich in levensgevaarlijke situaties en vliegen de kogels hem letterlijk om de oren. Sara Linton beheerst zijn gedachten. Er lijkt tussen de twee iets moois op te bloeien maar het verleden staat in de weg. Is Sara al wel over de dood van haar man Jeffrey heen? Zal ze niet elke man vergelijken met haar overleden echtgenoot? En Will is immers nog getrouwd met Angie. Ook al is de verstandhouding tussen de twee geen huwelijk meer te noemen, ze delen een gruwelijk verleden met elkaar en hierdoor hebben ze een hechte band. Zal Will zich ooit van Angie kunnen losmaken? Angie lijkt bovendien niet van plan hem te laten gaan.

Van de boeken van Karin Slaughter kan ik altijd erg genieten. Ze staan garant voor een flinke dosis spanning en de toegankelijke schrijfstijl maakt haar boeken prettig om te lezen. Ook is het leuk om de vertrouwde personages weer te verwelkomen. Dit alles geldt ook voor Gevallen. De sfeer zit er meteen in en het onderwerp is spannend. Vrijwel het hele verhaal verloopt vlot maar een korte tijd is de vaart eruit en kabbelt het verhaal gemoedelijk voort. Desalniettemin vlogen de ruim vierhonderd pagina's onder mijn ogen door.

Gevallen is een boek om heerlijk mee op de bank te ploffen en de boel de boel te laten. Uren onbekommerd lezen, dat is precies wat met mij vele anderen doen. De thrillers van Karin Slaughter (1971) zijn in achtentwintig landen vertaald en doen het erg goed op de bestsellerlijsten.

ISBN 9789023464501 paperback 443 pagina's |De Bezige Bij | juli 2011
Vertaald door Ineke Lenting
© Annemarie, 2 augustus 2011
Lees de reacties op het forum en/of reageer, klik HIER
---