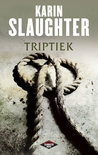 Triptiek
Karin Slaughter

Rechercheur Michael Ormewood wordt opgeroepen voor een moord in een appartementsgebouw in de wijk Grady Homes, berucht voor zijn drugsdealers en prostituees. Hij wordt daar geconfronteerd met de wel heel geweldadige moord op heroinehoertje Aleesha Monroe. Omdat er een aantal elementen overeenkomen met andere misdaden die onlangs gepleegd zijn, wordt de hulp van Speciaal agent Will Trent van het Georgia Bureau of Investigation ingeroepen maar nadat het buurmeisje van Michael dood wordt teruggevonden in zijn achtertuin gaat Trent alleen op onderzoek.

Bij iedere misdaad valt het op dat de meisjes gewelddadig verkracht worden en dat hun tong afgebeten wordt maar waarom zijn de meeste meisjes pubers en is Aleesha een volwassen jonge vrouw? Waarom laat de moordenaar de meisjes leven en Aleesha niet. En hoe past het buurmeisje in dit alles want bij haar is de tong afgesneden ipv afgebeten?
Allemaal vragen die speciaal agent Will Trent moet zien te beantwoorden voor er nog meer slachtoffers vallen.

Voor mij was dit de eerste Karin Slaughter die ik las en meteen een hit. Het boek is heel spannend, heel goeie cliffhangers en verrassende wendingen. De personages zijn heel goed uitgewerkt, maar zo nu en dan wordt er te diep op hun verleden ingegaan wat de snelheid van het verhaal niet altijd ten goede komt.
Weinig van de personages hadden een "normale" jeugd of gezinssituatie wat dan ook in hun volwassen leven gevolgen had. Dit werd breed uitgesmeerd en irriteerde me soms. Dat het bij bepaald personen nodig was om zo tot hun manier van leven nu te komen was normaal maar andere personages moesten niet noodzakelijk een belabberd verleden hebben om geloofwaardig over te komen. Maar dit is voor mij het enige minpunt. Zelfs het feit dat je halfweg het boek al weet hoe de vork in de steel zit maakt het niet minder spannend.
Een aanrader voor wie houdt van bloederige, heel spannende thrillers.

ISBN 9789023464600 Paperback 455 pagina's De Bezige Bij juni 2011
Vertaald door Ineke Lenting
© Inge, 10 mei 2105
Lees de reacties op het forum en/of reageer, klik HIER
---