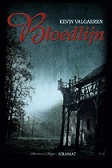 Bloedlijn
Kevin Valgaeren

Op het einde van het boek "De ziener" lezen we hoe David een vampier wordt.
Nu is hij op zoek naar Sterre Schemers, het meisje waar hij als tiener in het geheim verliefd op was. David heeft Valeth over Sterre verteld en vreest nu dat Valeth haar tot zijn partner wil maken.
Sterre, die een aantal jaren geleden weggegaan is uit Turnhout na het voorval met Jude, keert dan net terug naar haar geboortestad. Ze krijgt een baantje aan een technische middelbare school waar ook Werner van Lissum leraar is.
Als Werner de naam van Sterre hoort is hij erg ontdaan. 's Avonds gaat hij naar "Het jachthuis van de Echelkuil" waar hij Celine en Marcus gaat gaan vertellen dat "ze" terug is. Marcus heeft Werner een map met brieven mee die Sterre moet lezen.
Dat is het begin van een spannend verhaal waarbij je je steeds afvraagt wat de bedoeling is van Valeth, wat er aan de hand is met Sterre, enz.

Valgaeren is echt een goede verteller. Hij weet de spanningsboog strak gespannen te houden. Je blijft continu bezig met wat je gelezen hebt, je vraagt je af waar het naartoe gaat, probeert zelf te bedenken wat er gaat gebeuren om er steeds naast te zitten. Geen moment kun je voorspellen wat er gaat gebeuren.
Maar weer heb ik een beetje problemen met het einde. Alle eindjes worden mooi aan elkaar geknoopt, daar niet van, maar weer wordt er op zo'n manier een draai aan gegeven dat er weer een opening is voor een nieuw boek. Of dat slecht is laat ik in het midden, ondertussen kijk ik wel uit naar het vervolg. Benieuwd of Valgaeren er een derde keer in slaagt om de spanning erin te houden.

En ook deze keer is er een stukje geschiedenis in het boek verwerkt. Deze keer is het de eer aan het "Jachthuis van de Echelkuil" ofwel Huis Misonne in Oud-Turnhout. Het jachthuis ligt in Landschap de Liereman.
Zie http://www.kevinvalgaeren.be/photos-4/jachthuisechelkuil.htm

ISBN 9789079552870 Hardcover 480 pagina's Kramat oktober 2012
© Inge, 31 december 2013
Lees de reacties op het forum en/of reageer, klik HIER
---