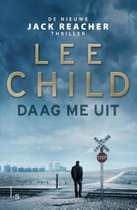 Daag me uit
Lee Child

Daag me uit is het twintigste boek van de Britse auteur Lee Child met hoofdpersoon Jack Reacher en de sleet zit er nog steeds niet in. Achterin het boek staat een overzicht van de uitgegeven boeken; een feest van herkenning voor de Reacher-fan! Reacher heeft zich in de loop der tijd ontwikkeld van rauwe houwdegen, die slechts af en toe laat zien dat zijn ruwe bolster ook een blanke pit heeft, tot een socialer personage dat nu zelfs op het romantische vlak van zich doet spreken. Nu is dat laatste niet het meest geslaagde deel van het boek, eerlijk gezegd. Maar het maakt het karakter Reacher wel meer benaderbaar; niet meer de 'lone wolf' die na gedane arbeid zwijgend verder trekt.

'Je moest er het beste van hopen, maar je voorbereiden op het ergste'. Dit motto van Reacher wordt in Daag me uit tot het uiterste op de proef gesteld wanneer hij per ongeluk betrokken raakt bij de curieuze vermissing van een privédetective in een piepklein, afgelegen plaatsje met de merkwaardige naam Mother's Rest. Die naam is overigens de enige reden dat Reacher daar uit de trein stapt: welke geschiedenis schuilt erachter? Direct bij aankomst ontmoet hij Michelle Chang, de collega van de vermiste privédetective. Zij zou hem in Mother's Rest ontmoeten, maar toen ze aankwam was hij spoorloos verdwenen. Reacher raakt geïntrigeerd door haar verhaal. Ze bundelen hun krachten en beginnen vragen te stellen. De bewoners van Mother's Rest zijn echter wantrouwig en doen hun uiterste best Reacher en Chang te ontmoedigen nog meer vragen te stellen, desnoods met geweld. Dat prikkelt de twee echter des te meer om de waarheid boven tafel te krijgen. Het verhaal begint na enige aanloop vaart te krijgen en er ontrolt zich een plot waar de simpele zoektocht naar een verdwenen persoon eindigt in een afschuwelijk drama met veel doden.

In praktisch alle boeken van Lee Child bindt Reacher de strijd aan met lokale boeven; vaak in kleine of afgelegen plaatsen waar hij min of meer per ongeluk terechtkomt tijdens zijn zwerftochten door Amerika. Mother's Rest is precies zo'n plaats. En net als in de meeste boeken komt hij een medestander tegen, in dit geval privédetective Michelle Chang.
Child heeft een stramien ontwikkeld dat werkt voor zijn held Reacher en de vele Reacher-fans. Want ondanks dit terugkerende en daardoor weinig verrassende patroon weet hij telkens weer een goed in elkaar zittende plot en geduchte tegenstanders te bedenken, waardoor de avonturen van Reacher tot de verbeelding van menig lezer spreken.
Daag me uit is wat dat betreft geen uitzondering, hoewel de toon losser en vlotter is dan gebruikelijk. Helaas geldt dat ook voor de karaktertekening van de hoofdpersonages waardoor het voor lezers die voor het eerst een Reacher-boek te pakken hebben wellicht lastiger is om met hem mee te kunnen leven. Voor de trouwe fan blijft het genieten, maar wel met de hoop dat de spanningsboog in het volgende boek – wat er ongetwijfeld gaat komen want Reacher trekt gewoon verder – weer op een hoger niveau ligt.

Over de totstandkoming van de naam Reacher voor zijn personage vertelt Lee Child op zijn site de volgende anekdote: in 1995 werd hij vanwege een reorganisatie ontslagen bij Granada Television en zag dit als een kans om te gaan schrijven. Wat hij het lastigste vond was het vinden van een naam voor zijn hoofdpersoon. Omdat Child nogal lang is werd hem bij het boodschappen doen in de supermarkt door andere klanten vaak gevraagd iets van een hoger schap te pakken. 'To reach' is ergens naar reiken, van een hogere plek pakken in dit geval, en zijn vrouw maakte het grapje dat hij altijd nog als 'reacher' in een supermarkt kon gaan werken. En zie daar, de naam van zijn hoofdpersoon was gevonden.

ISBN 9789024568864 | Paperback | 384 pagina's | Uitgeverij Luitingh Sijthof | september 2015
© Joanazinha, 6 februari 2017
Lees de reacties op het forum en/of reageer, klik HIER