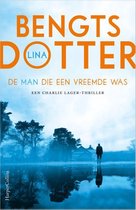 De man die een vreemde was
Een Charlie Lager-thriller
Lina Bengtsdotter

Rechercheur Charlie Lager is een eenling, en gezien haar levensstijl is dat maar goed ook. Haar buren zijn niet blij met haar. Ze hebben last van haar in al die nachten dat ze met veel lawaai over de trap stommelt, meestal in gezelschap van weer een vreemde man. Er wordt geklaagd. Charlie weet zelf ook wel dat ze niet goed bezig is, maar ze kan het niet laten. Ze drinkt te veel, en dan weet ze nauwelijks meer wat ze doet. In haar werk is ze gelukkig wel goed.

Als er in Karlstadt een baby vermist is, wordt Charlie daarheen gestuurd. De negen maanden oude Beatrice is uit de wandelwagen gehaald terwijl ze daar lag te slapen. Haar moeder heeft haar op het terras voor hun huis alleen gelaten.
Later zal duidelijk worden hoe dat zo gekomen is, en dan weet Charlie ook langzaam maar zeker de waarheid los te peuteren van iedereen die erbij betrokken is. Het is niet een ontvoering waarbij losgeld gevraagd wordt. De ouders hebben geld genoeg, maar als er maar geen telefoontje of losgeldbrief komt, weet Charlie dat ze het elders moet zoeken. Wie heeft het gemunt op een onschuldig kind?

Als ze eindelijk de beerput open trekt, komt er heel wat naar boven. Behalve de ouders, zijn er een oom, een compagnon en zijn vrouw en de schoonmaakster die allemaal moeite hebben om informatie te delen en het de politie lastig maken.

Intussen volgen we ook het verhaal van twee jonge vrouwen die elkaar ontmoeten in een opvanghuis. Zij sluiten vriendschap, maar hun verleden blijft duister.
Hun toekomst overigens ook.
En dan zijn er nog de zeldzame stukjes cursief tussendoor, die duidelijk afkomstig zijn van degene die het kind heeft. Maar daar worden we niet wijzer van. Zelfs niet of het kind nog leeft of niet, er wordt geen datum vermeld.
Al deze lijntjes komen op het einde bij elkaar in een dan niet meer zo verrassend einde.

Als je een hoofdpersonage niet sympathiek vindt heb je een probleem. Want natuurlijk kan het ondanks de tegenzin waarmee je het verhaal leest, toch een goed verhaal zijn. Goed geschreven ook. Maar als de betrokken personages die het verhaal moeten dragen stuk voor stuk leugenaars zijn die de belangrijke dingen verzwijgen, dan vertrouwt de schrijver toch te veel op de goodwill van de lezer. De speurder in kwestie is dan vanzelf slim, want zij weet alles wat ze weten moet om de zaak op te lossen uit de betrokkenen te trekken. Ergens wringt dat, al lees je natuurlijk door omdat je wil weten wat ze dan allemaal ontdekt, en of de zaak opgelost wordt.

De vertelstijl van Bengtsdotter is vrij zakelijk en rechttoe-rechtaan. Dat past dan weer wel bij haar speurder, maar maakt het lezen net iets minder prettig in de zin dat je het boek rustig weg kan leggen.

Lina Bengtsdotter (1977, Gullspång) werkt als docente Zweeds en psychologie. De vrouw die terug moest - de eerste Charlie-Lagerthriller - werd in Zweden verkozen tot thrillerdebuut van het jaar.

ISBN 9789402708295 | paperback | 320 pagina's | Uitgeverij Harper Collins | juli 2021
© Marjo, 8 oktober 2021

Lees de reacties op het forum en/of reageer, klik HIER