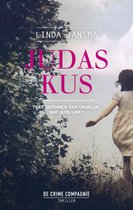 Judaskus
Linda Jansma

Een judaskus is te vergelijken met een mes in je rug door iemand die je volledig vertrouwde. Een grove daad van onrecht die je raakt tot in het diepst van je ziel en je helemaal van je ankers slaat. Met de intrigerende titel Judaskus maakt Linda Jansma je al voordat het boek is opengeslagen nieuwsgierig: wie is de grote verrader in dit boek?

In Judaskus maken we kennis met twee doodgewone gezinnen in de provincie Friesland; een doktersgezin op het platteland en een rentmeestersgezin op het landgoed dat door de vader van het gezin beheerd wordt. Beide gezinnen hebben een roerige periode achter de rug, maar zijn de laatste tijd min of meer in rustiger vaarwater gekomen. Het doktersgezin bestaat uit vader, moeder en twee kinderen; het rentmeestersgezin uit vader, moeder, puberende stiefdochter (de eerste vrouw van de rentmeester is overleden) en een baby. Niets aan de hand, zou je denken, behalve dat er al gauw onderhuids iets begint te kriebelen. Er gebeuren wat rare dingen, zoals het stalken van de doktersvrouw door een onbekende man en ongepaste mail die de vrouw van de rentmeester op een onbewaakt ogenblik op zijn computer vindt. Zowel de dokter als de rentmeester reageren niet helemaal zoals je zou mogen verwachten van liefhebbende huisvaders.

De lezer wordt geprikkeld met krantenartikeltjes, korte flashbacks en rechtstreekse aansprekingen door iemand in het 'nu'. Linda Jansma heeft het weer voor elkaar: ze pakt je bij de lurven en neemt je mee in een drama dat langzamerhand naar een hoogtepunt wordt gebracht.

Ogenschijnlijk gewone mensen zoals jij en ik, komen in onverkwikkelijke en zelfs misdadige situaties terecht. Ze moeten keuzes maken ten goede of ten kwade. Daarbij spelen verschillende thema's een rol: de verhouding tussen stiefdochter en stiefdochter, puberliefde, ontrouw, bedrog, kwalijke geheimen. Jansma dwingt de lezer mee te gaan in de keuzes. Ze bouwt de spanning genadeloos op en toch lijkt het alsof alles logischerwijs op elkaar volgt. Actie – reactie.

Wat doet een moeder die haar kind bedreigd ziet? Wat doet een vrouw die de grond onder haar voeten voelt wegzakken als was haar leven op drijfzand gebouwd? De judaskus maakt onvermoede krachten los die met trefzekere pen over de lezer uitgestort worden.

De letterlijke uitwerking van de titel is wat magertjes, maar de intrinsieke betekenis spat van de bladzijden af. Het verraad is de oorsprong van alle gebeurtenissen en lokt alleen maar meer verraad uit. Verraad uit een hoek die de hoofdpersonen allerminst aan zien komen.

Judaskus is vanaf het begin een boeiend boek. De personages worden goed weergegeven. Het zijn gewone mensen, die je zo tegen kunt komen. Dat maakt het des te intrigerender als duistere geheimen naar boven komen. De twee verhaallijnen lopen lange tijd naast elkaar zonder dat duidelijk wordt wat de verbindende factor is. Daardoor lijkt het soms alsof je twee afzonderlijke boeken tegelijk leest. Wanneer de verhaallijnen met een schijnbaar toevallige maar zorgvuldig geplande wending elkaar eindelijk kruisen, wordt een hoop duidelijk. Vanaf dat moment volgen de ontwikkelingen elkaar snel op waarbij de auteur kans ziet alle lijntjes goed in de hand te houden. Tot ze op het eind de lezer zelfs nog met een zeer verrassende wending tot op het bot weet te schokken. Over een judaskus gesproken...

ISBN 9789461091635 | Paperback | 400 pagina's | de Crime Compagnie | januari 2015
© Joanazinha, 22 september 2016
Lees de reacties op het forum en/of reageer, klik HIER