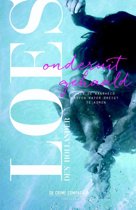 Onderuitgehaald
Loes den Hollander

Onderuitgehaald vertelt het verhaal van het gezin Fortuin. De naam is niet echt aan hen besteed: de eerste mevrouw Fortuin overlijdt op 35-jarige leeftijd aan een hartstilstand. Dochters Sigrid en Wieke zijn dan respectievelijk 12 en 9 jaar oud. De tweede mevrouw Fortuin (Freddy, de boze stiefmoeder in het kwadraat) verdrinkt op het moment dat de overige leden van het gezin op familievakantie zijn in een villa in Frankrijk. Vader Fokke Fortuin heeft deze vakantie gepland om zijn dochters te vertellen dat hij na 15 jaar huwelijk op het punt staat scheiding aan te vragen. Freddy duikt onverwachts op bij de villa en er ontstaat een grote ruzie. De volgende ochtend wordt haar lichaam in het zwembad gevonden. Hoe is ze daarin terechtgekomen terwijl iedereen weet hoe bang ze voor water is?

Zeven jaar later lijkt het tij zich te keren; de toekomst lacht Fokke en zijn dochters weer toe. Hij heeft een nieuwe, lieve vrouw gevonden en iedereen verheugt zich op de trouwerij. Dan ontvangt Sigrid, redacteur van beroep, een manuscript van iemand die dichtbij Freddy stond en waarin dreigementen worden geuit om haar dood te wreken. Maar waarom? Freddy's dood was toch een ongeluk?

Een boek van Loes den Hollander lezen is bijna elke keer weer een feestje. De personages zijn herkenbaar met omstandigheden waarin ze vaak tegen wil en dank terechtgekomen. Ze moeten proberen greep op de situatie te krijgen of angsten onder ogen zien. Tel daarbij op een meeslepende schrijfstijl en korte, krachtige hoofdstukken en je hebt de ingrediënten bij elkaar waarmee de auteur al jarenlang een schare trouwe fans aan zich weet te binden.

In Onderuitgehaald wordt de focus regelmatig verlegd van heden naar verleden en wordt verder informatie druppelsgewijs doorgegeven door middel van onthullingen in het aan Sigrid toegestuurde manuscript. Dat houdt de aandacht goed vast en je moet goed opletten om de volgorde in het verhaal te kunnen blijven volgen. Wie is de auteur van het manuscript? Sigrid gaat op onderzoek uit en komt op het spoor van vroegere vrienden en vriendinnen van Freddy. De verdenking wordt van de een naar de ander verschoven en lang blijft onduidelijk wie Freddy zo na heeft gestaan dat hij of zij nu op obsessieve wijze probeert wraak te nemen.

Het boek zindert niet van de hoogspanning en moet het niet hebben van adembenemende cliffhangers maar is een vlot leesbare thriller met een enigszins verrassende plot. Een minpuntje is dat het allemaal niet echt diepgravend is. De personages worden niet verder uitgewerkt dan voor het verhaal nodig is. Zelfs hoofdpersoon Sigrid ontkomt niet aan deze oppervlakkige schets; het zou voor het meeleven met de karakters prettiger zijn wanneer ze wat meer body gekregen zouden hebben. Bijvoorbeeld Sigrids relatie met architect Engel ontpopt zich wel heel erg vlot. Geen diepere gedachten over haar switch van overtuigd single bestaan naar een volledige overgave aan deze relatie. Ook de andere personages, zoals vader Fokke en zus Wieke krijgen niet meer kleur dan strikt noodzakelijk is, waardoor acties en reacties soms uit de lucht komen vallen. De basis voor een steviger verhaal ontbreekt.

Om die reden is Onderuitgehaald een heerlijk leesboek, maar niet één die lang blijft hangen in je geheugen.
ISBN 9789461092830| paperback|350 pagina's| De crime compagnie | oktober 2017
© Joanazinha , 8 januari 2018
Lees de reacties op het forum en/of reageer, klik HIER