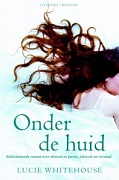 Onder de huid
Lucie Whitehouse

Kate is uit Londen gevlucht na het mislukken van een relatie die toch een dik jaar geduurd heeft. Ze dacht dat Richard de ware was, maar nu wil ze hem nooit meer zien. Wat is er gebeurd? Waarom is ze helemaal naar Wight gekomen en heeft ze behalve haar beste vriendin niemand verteld waar ze is?

Het is winter, het eiland heet haar niet echt welkom. Ook de bewoners niet, ze is een vreemdeling. Ze zoekt een baantje en loopt eens de boekenwinkel binnen, om zo toch eens onder de mensen te komen. Kort na haar aankomst heeft ze een ontmoeting met een vrouw, die stevig rokend, en duidelijk gespannen op een bankje over het water zat te kijken. Een paar dagen later blijkt de vrouw waar men met man en macht op het water naar aan het zoeken is, juist die vrouw te zijn. Is Alice Frewin bij een ongeluk omgekomen is? Of was het zelfmoord? Kate ziet in die vrouw een parallel met zichzelf. En ze wil meer weten over die vrouw. Had zij ook een ongelukkige relatie?
Als ze later Peter Frewin leert kennen, staat ze erg argwanend tegenover hem. Als Alice vond dat het niet meer de moeite waard was om te leven, dan had Peter daar vast iets mee te maken, denkt ze, het vergelijkend met haar eigen situatie. Peter is ook niet echt uit op contact met haar, maar de omstandigheden brengen hen toch nader tot elkaar.
Intussen bestookt haar ex haar met e-mails, die steeds dreigender worden. Hij zal haar vinden, ze is van hem…

De lezer wordt slechts langzaam ingelicht. We lezen hoe Kate op de kliffen loopt en zelfs denkt over springen. Ze wordt door de dorpelingen met extra aandacht bekeken omdat er iets met haar gezicht aan de hand is, maar het duurt een hele tijd voor we het hele verhaal kennen. En intussen wordt de spanning opgevoerd. Tot het moment komt dat ze naar andere woonruimte moet gaan uitkijken, en ze besluit niet meer op dit eiland te blijven.
Mocht je in het begin van het boek je twijfels hebben of je een heuse thriller zat te lezen, als je eenmaal over de helft bent, is die twijfel helemaal weg, en kun je niet stoppen met lezen. Want waar hangt Richard intussen uit? In deze moderne tijd met mobile telefoons en e-mail, kan iemand immers overal zijn, kilometers ver, of direct om de hoek van de straat. En we krijgen het verhaal alleen uit het perspectief van Kate te lezen, moeten net als zij afwachten wat de toekomst zal brengen!
ISBN 9789032512217 Paperback | De Kern | 364 pagina's |september 2010
Vertaald door Els Franci-Ekeler
Marjo, 21 oktober 2010
Lees de reacties op het forum en/of reageer, klik HIER
---